Things To Do On Antarctica Cruises
Antarctica cruises range from seven up to 22 days, and each itinerary is unique in its landings, focus and offerings.
Seriously and literally, Antarctica is The coolest destination on Earth and is even last great wilderness.
A place free of anything man-made, this natural beauty must be discovered before its precious polar ecosystem and wildlife are endangered and lost forever.
The 5th largest continent, only about one percent of the total landmass is visible and by far the most unexplored area by mankind.
The Antarctic encompasses the whole area south of 60°, which is comprised of islands, sea, and ice shelves. A journey to the South Pole promises a land of extremes only the most adaptive travelers can handle.
Antarctica Cruises Travel Guide
Antarctica voyages goes from 7 up to 22 days, and each itinerary is unique in its landings, focus and offerings.
There are many Antartica cruises to choose from, and cruise lines are always there to help you pick the right one for your interests and dreams.
The Antarctic Peninsula is the "classic" voyage and offers passengers an amazing introduction to the White Continent, its wildlife, history, and geology.
If you are interested in visiting more remote polar areas, such as South Georgia or the Weddell Sea, this is perhaps the best line for you.
For those looking for a specific interest trip – photography, bird watching, penguins, or whales – you can include them on your to-do list.
By cruise ship is perhaps the most common way to visit Antarctica. To date, there are over 80 companies who belong to IAATO (International Association of Antarctica Tour Operators).
The Antartice cruises can start and end from any of these locations: Ushuaia in Argentina, Punta Arenas in Chile, Bluff in New Zealand or Hobart in Australia.
Depending on the provider, the length of the trip, and the kind of cruise expedition that you pick, you can do additional activities or excursions in the Antarctic, as well as visit other Antarctic and sub-Atlantic islands along the way.
It helps to note though that the size of the ship matters: in general, smaller ships are preferred because they can go to more places and do more landings. So, why more landings, you might ask?
Well, according to IAATO guidelines, there can only be 100 people at a time on land — so, if your boat has more than 200 people, you might just spend only a few hours on the shore.
With that said, it is best that you go for Hurtigruten's MS Fram ship, which is a small yet strong vessel that carries about 200 guests.
This is the ship that most travelers choose. It often has 2 landings to different locations and is also packed with optional excursions like kayaking, camping, zodiac excursions, hikes, and others).
Best Time to Visit Antarctica
Antarctica is inaccessible to tourists for the majority of the year due to its extreme conditions — it is called the world's coldest and windiest place after all.
In fact, winter temperatures can fall up to -70°C (it even reached -94.7°C back in 2010 and -89.2 in 1983) and that comes together with 24 hours of darkness too!
Nevertheless, things get better during the summer season between November and March when the ice starts to break and the temperature gets warmer; hence, cruise expeditions are running during this time of the year and most landings are done at the tip of the continent along its west coast.
The temperatures there average at only about 0°C to 8°C (with close to 24 hours of sunlight).
Antartica Cruises in November
November – This is said to be the time when you will see Antarctica in its most "untouched" form. Icebergs are at their biggest, snow is pristine, and the penguins start to mate (with them laying eggs at the end of the month in their nests).
However, the temperatures are still quite cold and polar ice is still breaking up so the downside of traveling to Antarctica in this month is that you might not be able to access some areas.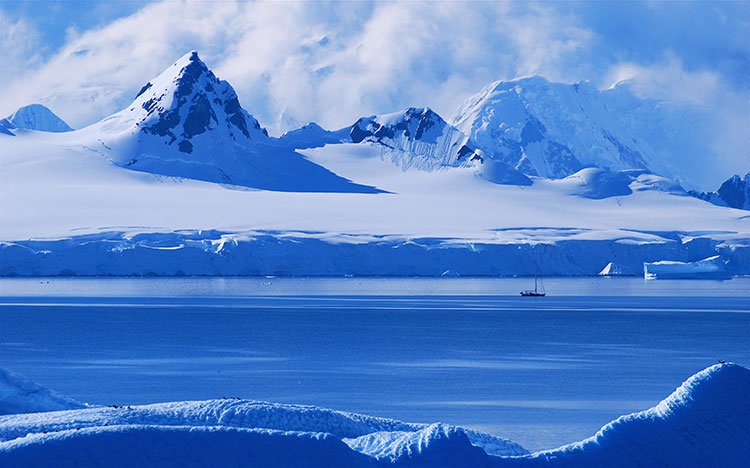 Moreover, wildlife such as whales and penguins are more difficult to spot.
Antartica cruises from December to Early February
December to Early February – December is said to be the best month for traveling to Antarctica.
As the continent starts to warm up, it creates the perfect conditions for seals, penguins, and whales — therefore, wildlife is a lot easier to find (including the cute little seal pups and penguin chicks who have just been born).
Whales, in particular, are best seen in February. Also, since these are some of the months wherein there are more hours of sunlight, you will have plenty of opportunities in the day to take wonderful photos.
Antartica cruises from Mid-February to March
Mid-February to March – There are several pros and cons for visiting during this time of the summer season. Let's start with the cons: temperatures start to get a bit colder, most wildlife would have already gone out to sea, and landings will tend to be rockier and muddier.
But for the pros: whales are still abundant for spotting, the penguin chicks are larger and starting to "molt" or shed their fur, and there are lesser vessels, so there is less competition for landings.
Antarctica Cruises Ships
It takes a specially outfitted ice-class ship to operate expedition cruises in Antarctica. In recent years, a number of Russian research vessels that operated in Antarctica have retired, leaving a limited number of vessels in the world that can operate cruises in Antarctica.
This shift has increased the number of upscale options but has also increased the price of Antarctica cruises.
Because of this homogenization, the industry now classifies Antarctic ships as Luxury Expedition Ships or Expedition Ships.
Adding to the confusion is the fact that many ships are independently owned and thus operated by a number of cruise lines, sometimes in the same year. So choosing a ship does not necessarily mean choosing an outfitter.
For active guests, a good distinguishing factor between ships is the activity offered.
All of the ships you will travel with are expedition style, including a lot of time off ship exploring via Zodiac and hiking (and often snowshoeing), but some go above and beyond with even more adventure options like camping, kayaking, cross-country skiing, mountaineering and even scuba diving and stand-up paddleboarding.
Major itineraries of Antarctica Cruises
Antarctica cruises can be separated into three categories based on where they operate. They are also distinguished by the length of the itinerary.
Antarctic Peninsula Route
Antarctic Peninsula – By far the most popular and affordable Antarctica cruises are trips to the Antarctic Peninsula. Beginning and ending in Ushuaia, Argentina, routes are fairly standard, crossing the Drake Passage, spending several days along the Antarctic Peninsula's western shore, then returning via the Drake, typically over 10-13 days.
Many of these classic routes include a stop at the South Shetland Islands, and longer routes may include Elephant Island or aim to reach as far south as the Polar Circle.
Route of Antarctic Peninsula, South Georgia & Falkland Islands
Antarctic Peninsula, South Georgia & Falkland Islands – For those with more time, adding South Georgia and the Falkland Islands is recommended, as it extends trips to an average of 20 days.
Just keep in mind, however, that it adds in the good chance of seeing King penguins, which you cannot see on a standard Peninsula cruise.
These routes sail the Southern Ocean northeast to the Falkland Islands, a destination famed for its penguins (5 of the world's 17 species summer here), birdlife and human history at the Stanley settlement.
Then your route heads southeast to South Georgia, the site of explorer Shackleton's grave and an astounding amount of penguins (read more about South Georgia Island wildlife), west to the Antarctic Peninsula, and then completes the loop north through the South Shetland Islands back to Ushuaia.
Route Beyond the Antarctica Peninsula
Beyond the Antarctica Peninsula – Though technically in the Antarctic Peninsula region, expeditions to the Weddell Sea are often on routes of their own, not including time on the Antarctic Peninsula proper.
These expeditions aim to visit more secluded Emperor penguin rookeries and some include helicopter transfers for a truly once in a lifetime penguin encounter.
What Currencies To Bring On Antartica Cruises
Antarctica is not a country, so it does not have its own currency.
However, there will be some places in the Antarctic Peninsula such as Port Lockroy (where you can find the Penguin Post Office museum and souvenir shop) and some research station facilities that will sell some stuff to visitors.
With them, currencies like the USA dollars, Pound Sterling, and Euro are generally accepted (together with MasterCard and Visa cards).
Top Reasons to Visit Antarctica
Antarctica is a land of extremes. There is nowhere on earth quite like it – it is a vast continent of ice, snow, glaciers, and superlatives. In other words, it is the windiest, driest, and coldest continent on earth.
Still, a trip to Antarctica is the best thing you could ever do travel wise. Here are some stone wall reasons to visit the continent:
#1 No Offices
No Offices – That is right – there are no offices in Antarctica, so you can leave your paperwork, computers, fax machines, and laptops behind. Give yourself a break, and see life from a real window, not an office window.
The views from the Antarctic office will by far outlive the views from some non-descript skyscraper in New York, London, or Hong Kong.
This might be the tonic you need to escape your mundane life and get out and see the world.
#2 The Wildlife On Antartica Cruises
The Wildlife – There is an amazing amount of wildlife to be found in Antarctica. You are never far away from a penguin – they are everywhere!
Add to that the endless birds flying, the nesting cormorants, seals by the harbor, and, of course, whales! There are not many places in the world that offer the kind of wildlife that Antarctica offers.
In addition to penguins which are the main attraction, you can also view many different types of birds, seals, and whales.
Penguins – Since the wildlife is discussed, it is only right to highlight these lovely creatures. Two of the 17 species of penguins solely reside in the White Continent: the Emperor Penguins and the Adelie Penguins.
And like their regal name, these tuxedoed gentlemen rule the country with their goofy mating rituals and silly antics. With up to 250,000 of them gathering in one breeding area, there is no shortage of non-feathered friends to observe.
#3 Escape the Tourists
Escape the Tourists – There is nothing worse than going traveling or on holiday and seeing that a load of other tourists are visiting the exact same place as you, and in their thousands.
Here, you will not meet any other tourists other than those on your cruise, so you will have the freedom of the continent to yourself! Antarctica is the place where you are really going off the beaten track!
#4 Glaciers
Glaciers – You have seen the Perito Moreno glacier in Argentina or the Franz Josef glacier in New Zealand. But those are just nothing compared with a land full of them!
Antarctica is full of glaciers – so many that they do not even have to give them names – some collapse over time. They are spectacular.
Big Ice – Whether you want to admire the ice formations from afar or scale them, grab your crampons and an ice pick and get mountaineering.
Ice in the Arctic and Antarctic is thicker, taller, heavier and older than anywhere else on Earth and the billowing statues change so much you will never encounter the same design twice. But do not be fooled, even with all the ice and frozen tundra, Antarctica is still classified as a desert climate.
#5 Under the Sea Life
Under the Sea – Often overlooked, Antarctica's undersea is an environment even more amazing than what resides on the surface.
Described by oceanographers as a "riot of life," species exist in the depths of the Antarctic Ocean that exist nowhere else on earth. Researchers discovered new kinds of crabs, an albino octopus, and alien fish species.
#6 The Drake Passage
The Drake Passage – The Drake Passage that separates Argentina from Antarctica is the roughest stretch of water in the world and that is one of the reasons why many love to visit to Antarctica.
These are individuals who love being at sea and spending two days getting there on a rocky boat will have you absolutely pumped and buzzing for the first landing. There is a load of things to do on board the boat.
The best of which is to mingle with the crowds and get to know your travel buddies. You can also blag to people that you "survived the Drake" twice.
#7 Museums on your Antartica Cruises
Museums – There are a few bases and museums in Antarctica.
A favorite is none other than the British Base at Port Lockry, which is now a fully functional museum – you can walk all around, buy some souvenirs in the shop, and even post a postcard from the world's southernmost post box! Read up on your history before you go.
#8 The Weather
The Weather – Forget about sunning yourself on beaches – the Antarctic climate is clean, clear, and refreshing. You will need to wrap up warm, but all that will not matter as you hike up a hill in the middle of a blizzard without a care in the world.
Get ready for lots of snow, lots of wind and, even some awesome Antarctic sunsets. The weather helps make the experience what it is.
#8 Swimming on Deception Island
Swimming – Take the plunge and go for a swim. You will most likely get this opportunity at Deception Island. The water is ice cold and you will freeze.
The boys will be able to see your icy nipples and for the girls, you might not even see the men's naughty parts as they have been frozen cold!
Leave your embarrassments behind and get in there! It is cold but you will probably only be there once. You also get a certificate to say you went swimming in Antarctica!
#9 Drinking On Antartica Cruises
Drinking – You have to love the idea of sipping an ICE COLD beer on the world's coldest continent.
There is a bar at the Vernadsky Ukranian Station, as well as 2 bars on board the boat that you will be on. There is also the option to bring your own.
Have a tipple and celebrate reaching your seventh continent!
Best Things To Do On Antartica Cruises
The things to do in Antarctica are some of the most unique things to do in the world. There are not many places where you can sit at arm's length from a penguin, see some of the largest ice burgs in the world, and freeze your bum off at the same time.
There are many misconceptions about Antarctica including the fact that you do not have to spend $10,000 for a cruise. Although most cruise ships go during the summer months, it is not as cold as you would expect in Antarctica.
Get Up Close and Personal With The Penguins
Get Up Close and Personal With The Penguins – The most popular tourist attraction in Antarctica, hands down. There are not too many places in the world where you can be at arm's length from thousands of penguins. You can walk among the massive colonies and even see penguin chicks during the right time of year.
Polar Kayaking and Camping
Polar Kayaking and Camping – There are few things in the world that measure up to kayaking the frozen scenery of a quiet Antarctic cove.
Paddle amongst the fjords and icebergs to come face to face with whales, penguins, and seals in their natural habitat. When you reach some of the safer locations in Antarctica many tour operators offer both kayaking and camping.
They both are quite pricey so make sure that you really love to do both if you decide to book the tour. With the zodiac cruise, you would not think that kayaking is worth it.
If it is not too cold, you can definitely nestle up near or inside a penguin colony when you go camping.
Trail-less skiing on Antartica Cruises
Trail-less skiing – With no Nordic trails to guide you, experience how skiing was done in the good old days, as a way to get from point A to point B.
Navigate the elements as you traipse through pristine snow, inclines, and groom-less paths to test your internal compass and sense of direction.
Bird Watching
Birding – Only 43 species of birds breed south of the Antarctic Convergence, nearly all of the seabirds. Whether you are a novice birder or a pro, head south to see colors, wings, and feathers found nowhere else in the world.
While penguins represent half the population of all the birds in Antarctica and rule the land, there are plenty of airborne species like the cormorant, albatross, skua, gull, and turn that reign over the skies.
Take a Zodiac tours
Take a Zodiac Cruise In Antarcitca – A zodiac is a small boat where roughly 8-12 people are able to be taken inside some of the smaller passageways in Antarctica.
You will be able to see icebergs up close and personal and if you are lucky, many different types of seals including leopard seals.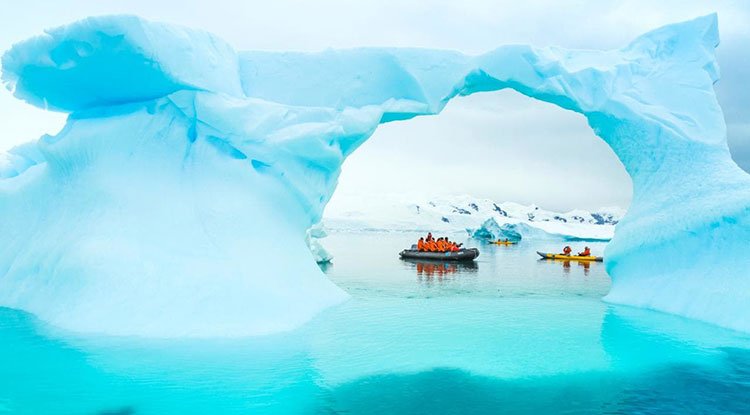 Send a Post Card from Antarctica Cruises
Send a Post Card from Antarctica: Port Lockroy – The national park in Tierra Del Fuego in Ushuaia claims to the have the southernmost post office in the world which is actually incorrect since there are post offices in Antarctica.
The post office in Port Lockroy sits among a massive penguin colony and also picturesque icebergs. Do not be surprised if it takes 2-3 months for your postcard to arrive!
Visit Lemaire Channel
View the Natural Beauty at the Lemaire Channel – There are not many places in the world like the Lemaire Channel.
Due to shifting winds the channel may be blocked by icebergs but if you get the chance to see it your life will change forever.
Snow-capped mountains reflecting off the calm waters of the Antarctic will give you some of the best pictures on your trip.
Antarctica Cruises Traveling Tips
Traveling to Antarctica is a once in a lifetime opportunity, and one which tops the bucket lists of many travelers.
And, with spectacular glacial lagoons, dramatic icebergs, vast areas of remote wilderness, breaching whales and deep-diving seals, it is really not hard to see why.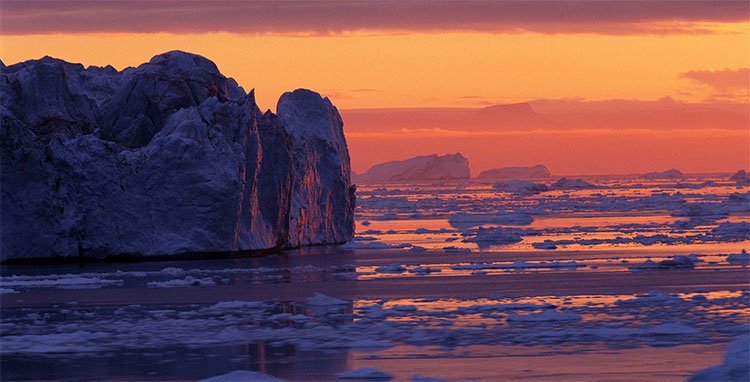 Antarctica really is the final frontier! Almost everyone who travels to the continent travels on a cruise, which is a fantastic option as it combines accommodation, transport, meals, and activities all in one.
While camping is available in some circumstances once ashore, there is hardly any infrastructure on the continent itself, and as such cruising is the best option available for accommodation purposes.
90% of cruises leave from Ushuaia, Argentina, across the Drake Passage, however, some cruise companies offer departures from Australia or New Zealand, and explore the Ross Sea side of Antarctica.
For those serious about travel to the Antarctic, below are some travel tips to Antarctica worth checking out.
Book a Last Minute Cruise Deal
Book a Last Minute Cruise – For an average trip consisting of a 10-day cruise you should expect to pay around $5,800 US or £ 3,700. You can, however, considerably cut down your costs by not booking your trip in advance.
Last minute deals are readily available for those willing to show up in Ushuaia in November/December; you may need to be flexible with dates, however, can potentially save a few thousand dollars.
Get Physical
Get Physical – Expedition sailing to Antarctica demands physicality.
Tender boat landings are often onto rocky beaches, there are steep staircases at Cape Horn and walking routes at Deception Island, Neko Harbour, and Damoy Point head uphill.
The less you need to focus on your body, though, the freer you are to appreciate your surroundings.
If you are not generally very active, training in the months before your trip will pay off. Yoga and Pilates improve strength, balance, and confidence, though you can always go with incidental exercise.
Walk up and down the steep uneven ground in your neighbourhood, take stairs over escalators when there is a choice, practice tender exit, and entry moves by swivelling 180 degrees on your breakfast stool while lifting your legs over the dog.
Be Prepared
Be Prepared – The Drake Passage, separating Chile and Argentina's Tierra del Fuego from the Antarctic Peninsula, is not always the Drake Lake.
At home beforehand you might want to seek prescription anti-nauseas without the antisocial side-effect of drowsiness.
They should work like magic and, apart from being a bit fuzzy in the head and wild in the eyes for crossings, you should otherwise be fully functional.
Plan For The Passage
Plan For The Passage – A long haul flight, sudden change of diet, and the ship's air conditioning can wreak havoc on even the most regular digestive tract, so taking daily fiber supplements from the moment you leave home should mean everything goes pretty smoothly.
Dress For The Weather
Dress For The Weather – Summer temperatures on the peninsula's coastline typically hover around zero but can be a lot lower. When you are too cold, it is virtually impossible to think about anything else. But overdressing is not the answer – that can make you sweat and then you will be chilled by your body's moisture.
Do Not Get Sick
Do Not Get Sick – Getting sick is the worst but avoiding sickness on a ship takes vigilance. Using hand sanitiser is imperative, but being paranoid at the buffet is also important.
For instance, think about how many hands – and not necessarily clean ones – have been on the serving spoon you just touched before using that same hand to pick up your bread or a piece of fruit or peel a boiled egg. Exactly.
Do Not Ever Miss a Thing
Do Not Ever Miss a Thing – Expedition teams on all cruise ships are experienced adventurers of all ages from everywhere who want nothing more than to get you onshore as often as possible. But weather conditions rule.
So, if you are thinking of delaying your first small step on Antarctica, keep in mind that operations could cease at any time and not necessarily resume.
Despite the abundance of wildlife in Antarctica, that pod of orca, the young crabeater seals, those chinstrap penguins weighing down an ice floe are one-off scenes, so sometimes it is worth cutting a meal short or skipping the sauna session to have a good look.
Your captain will make it easy for you by prioritising birds and animals over full-steam-ahead; one day you will sit mid-channel for hours surrounded by diving pods of feeding humpback whales.
Respect is Everything
Respect is Everything – All the creatures that you will encounter in Antarctica are attempting to thrive in one of the world's harshest climates.
Accounting for that when you are in their space – by being quiet, stepping off penguin highways as they are coming through and not edging as close as possible to seals for the sake of a photograph – is environmental friendliness and good karma.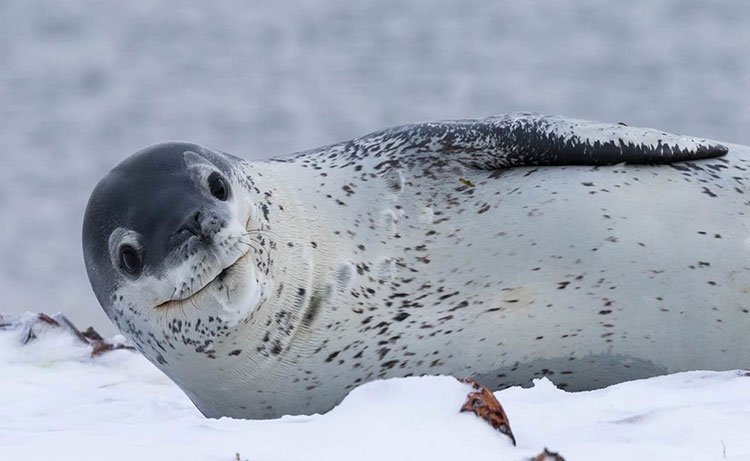 Take a Dip
Take a Dip – Swimming is an exercise in true immersion. Sure, it might be cold (obviously) but you will be there only once. Or perhaps you will be back, but it will take a couple of months or years. Besides, it has become a common thing for people visiting Antarctica to test its waters and take a dip.
Limit The Lens
Limit The Lens – Photography can help you understand a place, remember it afterward and share it with others, but chronic camera use will block you from the actual experience. Even the on-board photography instructor will suggest spending time getting to know Antarctica before trying to capture it.
Rise Early
Rise Early – December is the month of the summer solstice when, on the peninsula, there are just a few hours between sunset and sunrise and the rest is a well-lit ever-changing spectacle.
Antarctic light is always extraordinary but dusk and dawn are the finest hours so maybe set a super early alarm one day or just make the most of your jet lag.
Stay Out
Stay Out – Time ashore is generally never more than 90 minutes at any landing location. To spend extra hours off the ship, consider joining up for the kayaking, photography or snowshoeing workshops.
Try To Walk The Deck
Try To Walk The Deck – In case you did not know, cruise lines will allow you to circle the ship like a skua looking for penguin eggs.
Whether it is heavy swell, snow, strong wind or a calm sunshiny day, your eyes always shine more brightly after a few laps.
Look For The Quiet Places
Look For The Quiet Places – Both on and off the ship you can find places for solitude to reflect, contemplate or just have a break from other people.
From 2018, it will even be possible to sail Antarctic waters for periods of complete silence on board the likes Hurtigruten's new hybrid diesel-electric expedition ships MS Roald Amundsen and MS Fridtjof Nansen.
Let The Others Do Their Thing
Let The Others Do Their Thing – Everyone's different but, when you are living in the close quarters of a ship, you tend to notice exactly how different. But getting fixated on or distracted by what others are doing is a waste of precious time and energy. Just mind your own business.
Book to Step Foot on the Continent
Book to Step Foot on the Continent – Make sure your itinerary includes the opportunity to step foot on the Antarctic Continent, as some cruise companies will not allow you to get off the ship.
One of the main draws of Antarctica is the phenomenal wildlife; hundreds of emperor penguins, leopard seals, exotic birdlife; would not you actually want to walk among the spectacular wildlife you have traveled to the edge of the earth to see?
Know Which Costs Are Included
Know Which Costs Are Included – You may think you have found a killer deal on a cruise to Antarctica, but be sure to double check and fully research all of the trip details and associated costs.
A lot of companies will offer hugely discounted rates, however not cover inclusions such as food or optional activities like kayaking during your trip. Make sure you are aware what is included and what is not, and balance this against more expensive cruises which do include everything for you.
Some itineraries also include travel to South Georgia and the Falkland Islands as part of the trip (something to consider as you are traveling all this way), and check for optional activities like kayaking, hiking, scuba diving, helicopter rides or camping.
Record Your Adventure of Antartica Cruises
Record Your Adventure – The old saying "photos or it didn't happen" applies here! Be sure you are set with enough equipment to properly chronicle your adventure.
Antarctica cruises are a once in a lifetime trip; a continent most people only ever dream of stepping foot on; so this could well be the trip which is worth the investment in good camera equipment.
For amateur photographers, you can go with the simple ones. As mentioned above, do not be too much with the lens.
Take some time, too, discovering and exploring Antarctica.