Mediterranean Cruises – Travel Tips & Things To Do
Taking a Mediterranean cruises is not only the most exciting thing to do, but it is also an interesting journey to take.
Whether you are in for a family trip or a romantic getaway with your significant other, you will surely have the time of your life.
Cruise lines these days have become flexible with their offers and trips, all of which are guaranteed to give you a surreal Mediterranean experience.
They also offer departure ports from Barcelona, Rome, and Venice, but you want to make sure that you have an idea about every city and its historical marvels.
This is the right thing to do before sailing and going on your way.
Major Ports Of Call For Mediterranean Cruises
#1 From Barcelona
– While cruising from Barcelona, you do not want to miss the Gothic barrio, Gaudi's picturesque Park Guell, and Sagrada Familia cathedral.
Barcelona is rich with culture and panoramic views.
You can enjoy the sights by hopping on a bus and going into the mountains, where you can find quaint little villages and enjoy tapas and wine in one of their many cafes.
You definitely cannot think of a better way to kick off your cruise than arriving in this city and enjoying all it has to offer.
#2 From Rome
– If you are cruising from Rome, expect to encounter many museums and cathedrals.
And if you can, try to explore each and every single one of them. You can start by visiting the Sistine Chapel in Vatican City, seeing the world-famous Colosseum, and throwing coins in the Trevi Fountain to assure your return.
If you want to see bones, there is no need to go all the way to the countryside catacombs, like the Capuchin Crypt, right in the heart of Rome, has them fully on display.
One fair warning, though, it is not for the faint of heart.
With all the charming cafes Rome has to offer, you will not be able to resist having some delicious Italian food and a cappuccino before you get onboard.
#3 From Venice
– If you want to start cruising from Venice, you are in for a treat. Venice is a breathtakingly gorgeous city and the perfect place for a romantic rendezvous.
It is a very walkable city full of restaurants and shops, and home to the very colorful Murano glass.
While in Venice, you do not want to miss the Piazza San Marco, which is where this large cathedral is located.
You will also want to take a gondola ride through its famous canals.
It is also very impressive to see these large cruise ships navigate through all these little islands through the Grand Canal as you set sail on your adventure.
Mediterranean Cruises Packages for the Whole Family
Experiencing the Mediterranean on a family cruise is also very convenient.
Forget packing and unpacking at every city, and say goodbye to checking in and out of hotels every time you want to explore a new place.
You will essentially be aboard a traveling hotel with amazing accommodations and plentiful amenities, to make your trip as smooth and comfortable as possible.
Cruise lines offer many stops on their Mediterranean cruises, which you can cruise aboard ships including some of the industry's well-known ships.
After exploring each port city, you can unwind on the ship's many lounges, or visit a spa to relax and soak your tired muscles.
You can also enjoy the ship's many onboard activities and dance the night away at the disco, then go to sleep and wake up in a new port town to explore all over again.
If you want to experience as many places as you can in the least amount of time, a cruise vacation is certainly the way to go.
Fun Facts To Keep In Mind On Mediterranean Cruises
#1 Climate
– The Mediterranean climate is found between the 30o and 45o degree latitudes. This climate is often found on the western sides of continents.
Mediterranean climate gets its name from the climate found around the Mediterranean Sea.
#2 Seasons
– It is worth noting that the Mediterranean climate is very mild (few extreme temperatures), so it really on has 2 seasons: summer and winter. Summers are longer than winter, and the winter is very mild.
Very few places experience snow in a Mediterranean climate. The seasonal changes are due to changes in ocean currents and water temperature.
#3 Temperatures
– The climate is known for warm to hot, dry summers and mild to cool, wet winters. Winter temperatures are usually between 30 and 65 degrees. Summer months all average above 50 degrees.
The warmest month averages about 72 degrees. The cause of this climate is directly related to large bodies of water such as the Mediterranean Sea and ocean currents.
During the summer, cold currents keep the climate mild and dry.
Ocean currents shift as the seasons change. During the winter the water that was warmed up all summer moves in and keeps the land warm and often brings rain.
#4 Precipitation
– Mediterranean climate is a fairly dry climate.
Almost no rain falls during the summer, so most of the rain falls during the cooler winter.
The summer experiences cold ocean currents that bring dry air and no precipitation. During the winter the currents shift and warmer, moist air brings rain to these areas.
Snow can fall in higher elevation areas or places that are farther north.
Mediterranean climates receive around 20 inches of annual (yearly) rainfall.
Best Months To Go On Mediterranean Cruises
As already mentioned above, the Mediterranean is an appealing region.
It is consisting of about 20 countries in Southern Europe and North Africa (including two islands, Cyprus and Malta) that border the Mediterranean Sea.
Its mix of cultural and religious sites, big cities, and quiet islands make it an ideal itinerary for a cruise.
The Med, as it is known, is a year-round destination, with seasonal wine festivals and bustling holiday markets.
What time of year you are looking to sail depends on if you want to soak up the coastal sun or save a little money and avoid the crowds in the process.
The best month to cruise the Mediterranean depends on what you are looking for in a vacation. Take a look at factors below like weather and sea conditions, festivals and, of course, pricing, to determine which travel dates are right for you.
#1 January/February
If you are looking for an alternative to the throngs of tourists in the Caribbean, join the Europeans who snowbird to the Canary Islands this time of year.
Mediterranean Cruises departures in January and February typically sail from Barcelona to Tenerife, Palma de Mallorca and other ports around Spain and also Italy.
You will avoid some crowds and cruise cheaply.
Temperature:
Even in the dead of winter, average temperatures in the Canary Islands rarely dip below 70 F. Barcelona is a bit cooler – expect a high of about 58 F and lows dipping to 45 F.
Rainfall/Sea conditions:
Unfortunately, winter brings extremely rough seas to the Mediterranean; anticipate strong winds and storms, especially around the Bay of Biscay (western coast of France into Spain). On the plus side, there is very little rainfall in the Canary Islands and even in Barcelona during this time of year.
#2 March/April
Early spring marks the very beginning of the main Mediterranean cruise season, and if you are looking to avoid the hordes, this is the time to cruise.
Plus, while a few families can be expected to sail over school breaks, Mediterranean cruises do not draw the typical spring break crowd.
Temperature:
Most of the Mediterranean stays cool this time of year, but warms up to the high 50s into the 60s during sunny afternoons. It is a pleasant time of year to explore in port without overheating.
Rainfall/Sea conditions:
While March and April are moving into the spring season, rough seas can still be possible, especially in early March. Moving out of the winter months, a few rainy days are a possibility this time of year.
#3 May/June
Experience the benefits of summer in the Mediterranean
– long days and plenty of sunshine – without quite as many people as the midsummer months. The season for visiting the Baltic and Northern Europe begins in May and runs through September.
In other destinations, late spring is a fabulous time to sneak in a Med cruise before the kids are out of school and summer is in full swing.
Temperature:
The degrees begin to rise in May, making it a great time of year to head to Greece, especially; very little rainfall throughout the country is coupled with temperatures in the high 60s and 70s.
Rainfall/Sea conditions:
Expect relatively mild sailing conditions, but the water might not be as warm as you would expect if you are heading to the beach. Sea temperatures tend to match that of the air in the Mediterranean – a dip could be a brisk 65 F. However, in June, in Tel Aviv, water temperatures average a respectable 75 F.
#4 July/August
In the height of summer, with plenty of daylight and temperatures fit for Mediterranean beach days, July and August are the most popular months to travel – by cruise or otherwise – to the region.
Families are free to travel as a unit, and the allure of gorgeous coastal cities basked in warmth is hard for many to pass up.
Temperature:
Part of the appeal of the Med during the summer is the heat, but be wary of where in the region you are traveling. Barcelona might average a toasty but agreeable 80 F, while Greece is prone to heatwaves that reach into the 90s.
Elsewhere, expect temps in the 80s that can drop to the 60s by nightfall.
Rainfall/Sea conditions:
To mitigate any discouragement you might feel about paying top dollar to experience the Mediterranean with millions of other tourists, know that weather conditions both on land and at sea are at their best this time of year.
Expect smooth sailing into port, and dry, sunny days ashore.
#5 September/October
September is often hailed as the ultimate month for shoulder season travel, and rightly so.
Cruising just after the peak of summer is a fantastic way to ride the coattails of great weather while avoiding the densest crowds. Sailing prices also begin to dip.
Temperature:
Early fall is the perfect time to visit the Western Mediterranean, but the further the dates are toward October, the chillier it can get. Nighttime temperatures begin to drop into the low 50s come October, while daytime highs vary and might still reach the 70s.
Rainfall/Sea conditions:
In addition to cooler temps, October also brings rain to the coast as the winter season is ushered in. This is the rainiest month for Marseille, but you should expect the chance of rainfall in ports like Rome and Tangier, and Morocco.
Winds can vary, meaning sea conditions should hold out for most of this time but can deteriorate later in October. However, waters are warmest this time of year off the coast of Sardinia.
#6 November/December
Traveling to the Med in the winter is less popular, but temperatures can still be mild. Plus, pricing plummets to some of its lowest levels all year.
Christmas markets pop up in some cities during the Advent season and make for a memorable shopping experience.
Temperature:
While most ports will remain a temperate 50-something, places like the Canary Islands, Malta, Crete and Cyprus stay nice and warm – expect the high 60s to low 70s during the day.
Rainfall/Sea conditions:
The same conditions plague December that befall January – winter storms can lead to stormy seas, so waters might be choppy and cruising could get rough.
In port, November can be especially rainy. Keep in mind that while summers in the Med are warm and dry, winters are characterized as being cool and damp.
Best Mediterranean Cruises destination
The Mediterranean is one of Europe's most popular vacation destinations.
Filled with rich history, culture, and beauty, it is easy to see why so many people travel there. One of the best ways in which to explore this magical area is on a cruise ship.
Guests can travel from one region to another easily and seamlessly aboard a luxurious cruise ship.
There are a variety of cruise lines that offer trips to the Mediterranean – typically divided into east, west and southern regions – and each goes to different fabulous ports of call.
#1 Eastern Mediterranean Cruises
– The eastern Mediterranean region is one of true beauty and history. Most eastern Mediterranean cruises will visit Greece, Croatia, Turkey, Cypress, and Bulgaria.
In Greece, ships will typically stop in Athens, Corfu, Crete, Katakolon, Mykonos, Rhodes, Santorini, and Volos. While in Greece, be sure to explore the many beautiful beaches and architecture this ancient country has to offer.
Croatia ports may include Dubrovnik and Split, while common Turkey destinations are Istanbul, Izmir, and Kusadasi.
There are many interesting sites that vacationers can explore at these exotic locations. In addition, many eastern Mediterranean cruises visit Limassol, Cypress, and Varna, Bulgaria.
#2 Western Mediterranean Cruises
– Those who desire to visit the beautiful countries of Italy, France, and Spain may want to consider taking a cruise to the western region of the Mediterranean.
The Italian cities of Genoa, Florence, Naples, Portofino, Sorrento, Capri, and Venice are great spots to visit.
Italy is known for its cuisine and shopping, and these ports of call should provide vacationers with plenty of the both.
French stops typically include Marseille, Corsica, Monaco, Nice, St. Tropez, Sete, and Villefranch.
The Canary Islands of Fuerteventura, La Palma, Lanzarole, Tenerife, and Las Palmas are also spectacular sites to visit. In addition, many western cruises will visit Portugal, Croatia, and Sicily.
#3 Southern Mediterranean Cruises
– Mediterranean Cruises that tour the southern region of the Mediterranean visit exotic locations that are filled with excitement.
Many southern Mediterranean cruises will stop in Tunis, Tunisia; Tripoli, Libya; and Alexandria, Egypt.
Explore this region's culture by sight-seeing and sampling the native fare.
Stops on these cruises may also include Cyprus and Morocco.
What can I expect On Mediterranean Cruises ?
The best time in which to visit the Mediterranean is generally in the months from April to October.
Rough Waters
Cruise travelers might experience rough seas in several places in Europe.
The biggest offender is the Mediterranean, which tends to be roughest in the fall and winter, due to winds and storms.
However, avid cruisers have experienced rough seas in the spring and summer, so be prepared for anything.
Sea Temperature
The Mediterranean is the largest sea that is not called an ocean.
Bordered by Western Europe to the north, Africa to the south and the Middle East to the east, this sea is surrounded by many of the world's most ancient civilizations.
The Mediterranean is separated from the Atlantic Ocean by the Straits of Gibraltar.
It is believed that 5.3 million years ago a dramatic flood filled the Mediterranean basin as water flowed through these narrow straits. There is a fair degree of temperature variation in the waters of the Med.
It is generally significantly warmer as you travel east and there is around 10°C range between winter and summer highs and lows.
Top Reasons To Go On Mediterranean Cruises
In many respects, the Mediterranean Sea is the ultimate cruise ship destination, although you can journey all over the globe.
Despite the fact that other regions around the world like the South Pacific, the Caribbean, and the Far East will also claim they are deserving of such an accolade, there is something truly special about this body of water, which links Europe to Africa and Asia.
But what are some of its most distinctive and significant traits?
And why should you consider going on this type of holiday here? Well, here are some reasons to cruise the Mediterranean.
#1 Great Value
– Just in case you did know yet, cruises in the Mediterranean offer great value for your money because the fares include almost everything needed for a fantastic trip: accommodation, food, entertainment, and transportation between intended destinations.
On some Mediterranean cruises, kids are allowed to sail for free or at discounted rates when sharing a cabin with two or more adults.
#2 Multiple Destinations
– In the Mediterranean, cruises offer the ultimate in city breaks by allowing you to visit lots of islands and cities on one holiday without having to pack and unpack as you go.
On one cruise alone, you might visit Lisbon, Florence, Rome, Athens, and Venice.
It is an understated luxury to be able to unpack your bags and arrive at each destination without countless planes, trains, and hotels.
#3 Incredible History
– The Mediterranean will feel like a dream come true for intrepid historians, as the region has witnessed a great deal of change over the years.
From the Parthenon to the Colosseum, ancient Greece and Rome will be of particular interest to most.
#4 Delicious Cuisine
– Even though they say the Mediterranean diet is good for your health, it is also great for your taste buds. Expect plenty of fresh fruit and vegetables with most meals as well as lashings of olive oil too.
#5 Mesmerizing Cities
– On most Mediterranean cruises, you can expect to visit a fair few world-famous cities and explore their most prominent attractions.
Standout destinations include Barcelona in Spain, Venice in Italy, Dubrovnik in Croatia, and Lisbon in Portugal.
#6 Excellent Weather
– You can rest assured that whenever you choose to go on a Mediterranean cruises, the weather will be favorable.
Even in winter, temperatures are warm enough to walk around comfortably, without having to wrap up in numerous layers.
#6 Variety
– More than 30 cruise lines have numerous vessels in the Mediterranean, with each offering everything from luxurious yachts to resort-style family-friendly vessels packed with pools and educational clubs.
There are also adult-only ships, food and wine cruises, and smaller luxury cruises which host less than 800 people.
Cruises are not just for families and senior citizens! There are also many itineraries to choose from.
You can cruise for days or weeks and visit lesser-known towns or world-famous cities. Days in port allow plenty of free time to explore one your own.
Eastern Mediterranean itineraries, in particular, focus on Corfu, Montenegro, Croatia, and Venice while Western Mediterranean itineraries focus on Spain, France, and Italy.
#7 Easy to Plan
– Due to the fact that cruises package together accommodation, food, and transportation, they are easy to plan. They eliminate the need to travel on a cramped tour bus, drive a rented car and check in and out of hotels.
You just need to book your cruise and wait for your departure date.
You do not have to waste time searching for hotels in your price range or thinking of how to coordinate between cities.
#8 Hospitable People
– There is something about living by the sea that brings out the best in people.
Wherever you go in the Mediterranean, there is a very good chance you will be greeted with a smile.
#9 Captivating Cultures
– Countless countries surrounding the Mediterranean share certain traditions and customs, but others will be completely different.
On a cruise around these destinations, you will be able to learn about all of them.
"10 Value for Money
– Seeing as things like accommodation, entertainment, food, and transportation between destinations is included in the price of a fare, cruises around the Mediterranean offer superb value for money when compared to other ways of exploring the region.
When is the Mediterranean Cruises Season?
Cruising in the Mediterranean is possible year-round, though the peak season lasts from late May to early September.
The weather at this time averages highs from 80 to 90 degrees (though temps can spike considerably in ports in Northern Africa and Israel), with a consistent humidity that makes for warm waters (primed for swimming) and little-to-no rain.
During the winter months, bargain shoppers will find the lowest rates for Mediterranean cruises, with temperatures hovering in the 50s and ports largely devoid of crowds.
But during the fall and spring "sweet spot" months of April, May, September, and October, the lines of high and low season blur, and travelers can find not only good deals, but sublime weather and sightseeing conditions, as well.
High Season: Late May−early September
Low Season: November−March
Sweet Spot: Late April−early May; late September−October
How Long Do These Cruises Last?
Mediterranean cruises typically last between 5 and 14 nights, and with countless ports to choose from in close proximity, one can expect destination-intensive itineraries, with not too many days spent at sea.
On a typical one-week sailing, cruisers can expect to effortlessly experience three or four countries in a single trip.
Cruises lasting up to 12 nights are typically classified as Western or Eastern Mediterranean itineraries, with Rome, Italy, serving as the unofficial dividing line between the two.
It is not uncommon for lengthier sailings to cover both regions, particularly with some of the luxury cruise lines.
What to Pack On Mediterranean cruises
Packing for a Mediterranean cruise is the kind that requires a balance of resort wear, beach attire, and comfortable clothing for exploring exciting cities and cobblestoned villages.
Here are some recommendations on what to pack for both women and men taking a Mediterranean cruise, followed by some additional tips for those famous cruise formal nights.
#1 Cruise Ship Time
– When you are hanging out onboard the ship while sailing between ports, there are a few things you will want to be sure to pack.
The first one is a swimsuit, which may seem like an obvious one; however, you will want to also bring a coverup, so you feel comfortable walking around the ship in when you are not by the pool.
Most staterooms are not right next to the pool or sun deck and the quickest route from your stateroom to the pool may be through dining areas or lounges so be sure you feel comfortable walking around in what you are wearing.
Plus, you may want to head up to the Lido deck for a quick bite to eat while at the pool so an appropriate coverup is ideal. I like this tunic option.
#2 The amenities of the ship
you are on will determine what else you will want to bring onboard to wear.
If you are on a ship like Royal Caribbean, bring active wear if you want to enjoy the rock climbing walls, wave simulators, or basketball courts.
Loungewear for hanging out around the ship during the day and nicer attire for at night will usually suffice for most ships.
#3 Mediterranean Cruise Ports
– Off the ship you will want to be comfortable and prepared – and probably at least a little bit stylish, too.
If your Mediterranean cruises falls in the summer, opt for light, breathable material because it gets hot in the summer in most European cruise ports.
Swingy tanktops and linen shorts or pants, or a breezy sundress, will get you through a hot day touring.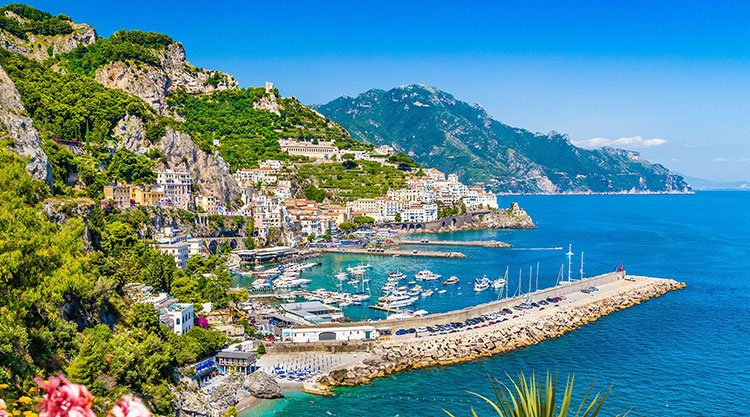 As for shoes, save the more fun ones for nights on the ship, such as low heels for nights onboard or sparkly sandals to glisten in the sunlight by the pool, but when in port, leave fashion behind when it comes to your shoes.
Depending what size ship you, high heels are generally not recommended, since they can sometimes be wobbly while at sea. This is most especially if you are on a smaller ship or depending on sea conditions.
You will be doing a lot of exploring, likely in a short amount of time, over cobblestoned streets and uneven trails. Make sure you can make the most of your day by being able to walk fast and by not being in agony!
You do not want to be hobbling in pain down a scenic cliff trail in Santorini or a beautiful alley in Dubrovnik because you wanted to wear fancy shoes.
Just do yourself a favor and put on the hiking shoes or sandals (that you have broken in before your cruise) and enjoy your day in comfort.
Besides, you can still find some that don't stick out as super obvious tourist walking shoes.
If you are traveling to a country where women are traditionally more conservatively dressed, like Turkey, you also may want to rethink your city exploration outfit and wear long linen pants instead of shorts and keep a lightweight scarf tied around your shoulders or opt for a loose, breezy long-sleeved top.
Packing Tips for Men
As usual, guys have it easier than ladies. Just keep in mind, you are in Europe, where locals tend to dress a bit more fashionable, including the men, so leave your oldest pair of ripped jeans and college t-shirts at home and opt for some crisp lines and trendy colors.
You also may want to upgrade your baseball cap for a more stylish hat or just invest in a pair of good sunglasses to keep the sun out of your eyes while you are touring European cities.
Onboard, nice slacks and polo or button-down shirts will work well for most dining areas and evening activities, but check the dress code of the ship you will be cruising on.
Non-Clothing Items To Pack
If possible, do not forget any of the following items. They should be with you when cruising the Mediterranean.
These are the follow:
Sunscreen (it will be expensive to buy onboard)
Extra camera batteries and memory cards
Charger Adaptor
Sunglasses
Daypack
Journal (these mini moleskine ones are easy to stick in a daypack and have the added bonus of coming in fun colors)
Extra hair bands (these were surprisingly hard to find in port during my cruise after I lost mine)
Decisions are all part of the fun of the holiday deciding what to pack, but planning for a cruise requires a little more planning since you cannot just pop into the nearest trendy boutique for anything you forget.
While you have the freedom when it comes to clothing, it would be best to go for the ones that suit your trip.
Besides, it will make you comfortable, allowing you to enjoy your cruise even more.