Best things to do in Phuket Thailand
Phuket, Thailand is a land of glittering blue seas and white beaches. It is one of the top cruise destinations in Southeast Asia for multiple reasons.
Visiting a new place on a cruise vacation can be a bit overwhelming because there is so much to do and see and so little time.
Your best bet is to do some prior research and to organize an itinerary in order to make the most out of your time.
A good tip is to avoid being too rigid with your itinerary and leave room for some exploring or changing plans.
This will help you actually relax in your vacation, instead of constantly worrying about sticking to a schedule. In any case, here you will find some ideas on what to see and do while in Phuket.
Phuket is a province in the south of Thailand, consisting of the biggest island of the country and 32 other smaller islands.
They are all located in the Andaman Sea, a sea of blue water that sparkles underneath the sun.
With beaches that will make you feel like you found paradise on earth and lively towns, you will find incredible combinations in Phuket for an experience you wouldn't be able to dream of.
Without further ado, here are some of the things you should not miss in your vacation:
Big Buddha on Phuket, Thailand
Thailand is where you can find Buddhist holy ground. The Big Buddha is approximately 147 feet tall sits on top of the Nakkerd Hills, the tallest on Phuket Island.
It can be seen from Phuket Town, but there is nothing like climbing up to the statue and seeing it up close. The image was built in 2005 with reinforced concrete and coated with white jade marble, for a holy and magical effect under the sun.
Next to the big statue, there are several smaller statues of Buddha and revered monks, such as the iconic brass Buddha, of a beautiful gold color.
Buddhists from all over the world visit the Big Buddha in a form of sacred pilgrimage, make donations, and write messages for loved ones who have passed on.
Visiting the Big Buddha is an other-worldly experience. With its magical 360o view of the island and the solemnity of visiting a sacred spot, the experience will likely leave you feeling serene and peaceful.
Remember to dress conservatively and modestly, since this is a religious site where people come to worship, and wearing beachwear or short skirts and t-shirts is considered disrespectful.
Visit some Buddhist temples (Wats) on Phuket Islands – Thailand
To go along with your visit to the Big Buddha, you can also visit some of the 29 Buddhist temples that are spread along the island of Phuket.
In the temples where Buddhists come to pray, you will be able to learn about the religion through the buildings themselves and through their images, as well as through guided tours.
Temples are called Wats, and they are part of the most important symbols in Buddhism.
While in Phuket, one of the temples you should try and visit is Wat Chalong. This temple has some of the most important statues in Buddhism, such as Pho Than Jao Wat.
The building that dominates the temple is called the Grand Pagoda, where you will find images depicting the Buddha's life, and even some of Lord Buddha's bone.
You can also visit Luang Poh Cham's exhibition's home, where you can learn more about important monks for Buddhism, in a room with wax figures of these monks and antique Thai furniture.
Again, this is a religious site, so a good tip is to behave similarly to the Thai people you see in the temple.
It is also recommended to dress modestly and avoid showing shoulders, legs, belly, or chest.
Also, you will be asked to take your shoes off at the entrance, so try to wear shoes that you wouldn't mind loosing because someone might take yours by mistake, thinking they are theirs.
Some Phuket Old Town tours will take you to Buddhist temples. This is a great way to learn more about the religion and the history, definitely better than visiting on your own.
These tours will also take you to different historic landmarks of Old Phuket
Visit Phuket street market
Markets are great places to see and purchase local food and unique artisanal souvenirs hard to find anywhere else. From sweets to shoes and even dresses, Markets are ideal spots for unique shopping experiences.
Phuket is a magical place that has night markets, which are only open in the evening, and are great for shopping away from the sun and heat.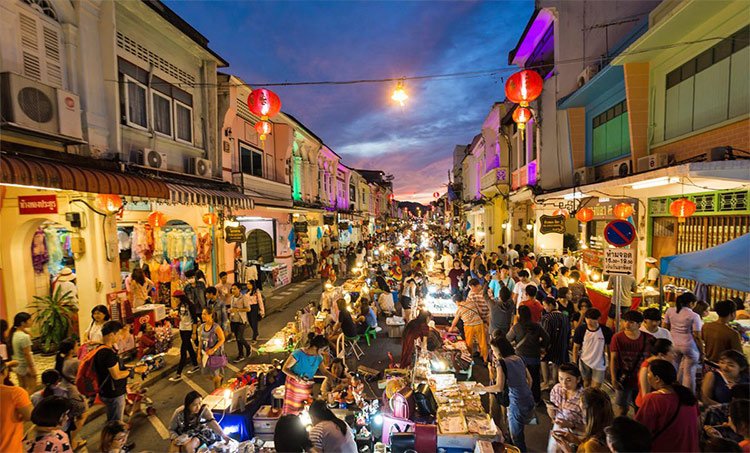 They are a great place to catch live music and try some Thai street food, as well as to find the coveted unique and fairly priced souvenirs.
Some of these festival-feeling night markets you should visit in Phuket Town are Chillva Market, located by Yaowarat Road; Phuket Weekend Market, in Chao Fa West Road; Phuket Walking Street, in Thalang Road; and Phuket Indi Market in Limelight Avenue, Dibuk Road.
Another night market worth a visit is Malin Plaza in Patong, famous for its food stands of low prices and delicious flavors, in Prachanukro Road.
Visit Phang Nga Bay – Phuket Thailand
Phang Nga Bay is made up by emerald green waters broken up by limestone karsts, and it is one of the most famous locations to visit in Phuket. One of the most popular sites to see in Phang Nga Bay is James Bond Island.
Actually called Koh Ta-pu, it was made famous for staring in "The Man With the Golden Gun", the iconic Bond movie of 1974. Another popular site worth seeing in Phang Nga Bay is Koh Panyee, a village that was built entirely over water and guarded by a giant monolith.
It is a great spot to find a restaurant and grab some lunch, as well as to admire this admirable form of engineering.
You can also spend the day kayaking through the limestone cliffs and seeing the Hongs of Phang Nga, which are natural "rooms" of microcosms, where you will see the typical, unspoiled flora and fauna that has been guarded by the towering limestone walls.
Relax at the beach one of many beaches in Phuket
Having a beach day is without a doubt one of the most popular activities while in Phuket because it has some of the most beautiful beaches in the world.
There are plenty of beaches of white sand and blue seas where you can lie and relax, have walks, and bathe in the water.
For a laid-back atmosphere you can try Kata Beach or Freedom Beach, the latter one known for its peacefulness and lack of pestering vendors characteristic of busier beaches.
If you prefer a striking scenery with rocks you can climb for an even better view, you can visit Ya Nui Beach, which also has optimal conditions for snorkeling.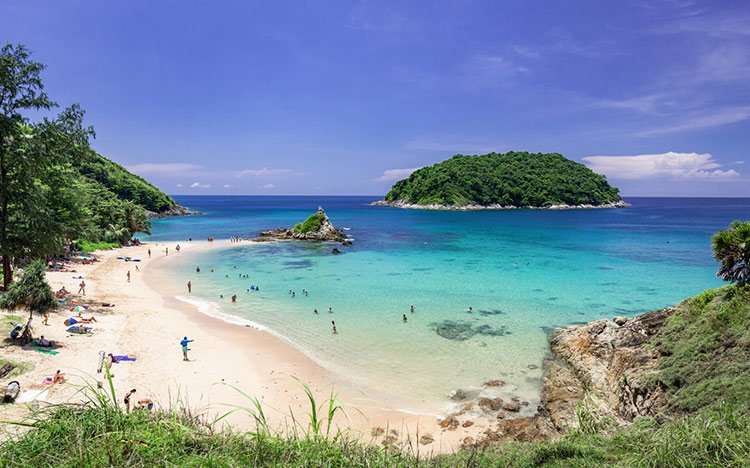 For a day of lots of walking, your best bet is Bangtao Beach, which is about 3.7 miles long, making it the longest beach in Phuket.
If you are looking for a lively atmosphere and want to see Phuket's most popular beach, you cannot miss Patong Beach.
These are only some of the beach options you will find in Phuket, so do your research beforehand and see which beach would best suit your needs. Do not forget your sunscreen!
See the Phuket Fantasea Show
This iconic show is one you should not miss while visiting Phuket. It is the island's biggest show. It combines fantasy and tradition for an unforgettable spectacle, including trapeze artists and stunning elephants.
Beyond the remarkable show, Fantasea is also home to one of the biggest buffets in Asia, where you will be able to experience multiple traditional flavors while enjoying a night out in carnival-like fun.
Phuket Fantasea has come to describe itself as "The ultimate cultural theme park", thanks to its unique way of immersing tourists from all over the world into Thai culture and traditions.
For a night of traditional dancing and extravagant costumes and scenery, Phuket Fantasea is the way to go.
Island hopping on Phuket, Thailand
Phuket is a wonderful place to go island hopping and discover other incredible places that you would not be able to see id you decided to stay in the big island.
One of the prime destinations in Thailand are the Phi Phi islands, a small archipelago of six. Only one island, Koh Phi Phi Don, is inhabited, where you can find places to eat, shop, and stay. You can visit the other five islands and see striking scenery that blends sea and jungle together.
They are drastically different from Phuket, which makes taking an excursion to see them worthwhile.
If you'd prefer a day trip at a smaller place where you can do some diving or snorkeling and hopefully see some marine wildlife, you could visit Racha or Raya Islands.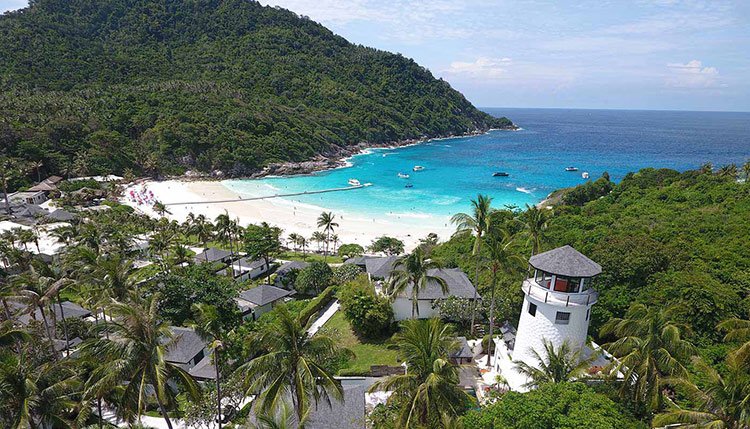 They are two islets called Racha Yai and Racha Noi about 12 miles south of Phuket Island, perfect for spending a day there and returning to Phuket.
There are multiple options of islands and islets you can visit.
The choice would depend more on how far these islands are and how long you have in Phuket, so be sure to do your research in order to choose the best option for you.
Try traditional Thai cuisine
Thai food is one of the cuisines that have slowly taken over the world. For some Thai takeout is part of their daily routine.
However, there is nothing like having the actual traditional dishes, prepared with the ingredients grown in Southeast Asia, and made by the people whose families have been eating them for generations.
For some traditional food in Phuket Town, you can try Kopitiam by Wilai, located in 18 Thalang Road.
It is a small restaurant that serves traditional Thai dishes people eat in their homes, and has menus in English available, although most of the signs in the restaurant itself are written in Thai.
For a more modern and hipster-like ambiance, while still keeping their dishes traditional and delicious, you can try either One Chun Cafe & Restaurant, located in 48/1 Thepkaattri Road, or Raya Restaurant, in 48 New Dibuk Road.
If you want to eat some noodles the way locals do it, you can try Mee Ton Poe, located in Phuket Road, by Surin Circle. It gets very busy during lunch hours, and with long tables and benches, you might end up eating with strangers.
Locals go often to get their traditional dish, which they have been serving since 1946: stir-fried Hokkien mee or Hokkien noodles.
Another top option for this beloved Thai dish is Pae Teaw Noodles, which you will find on the Junction of Dibuk Road and Saturn Road, which is a simple, cheap, and popular within the locals option worth trying.
Traditional Thai food might end up tasting very differently from the Thai food you remember from home. Visiting restaurants where people from Phuket eat is a great way to experience local culture.
Experience Phuket's vibrating nightlife
Bangala Road in Patong Beach is a place you must not miss, but one that you should visit after the sunset. From beer bars to clubs, everything you might wish for on a night out you will most likely find on Bangala Road.
The road is closed off to traffic, so you can walk around safely. Most of the bars are outdoors or open-fronted, so you can have a taste of the music and a feel of the place's vibe before you decide to go in.
Bangala Road is made up of "Sois", which is Thai for smaller streets.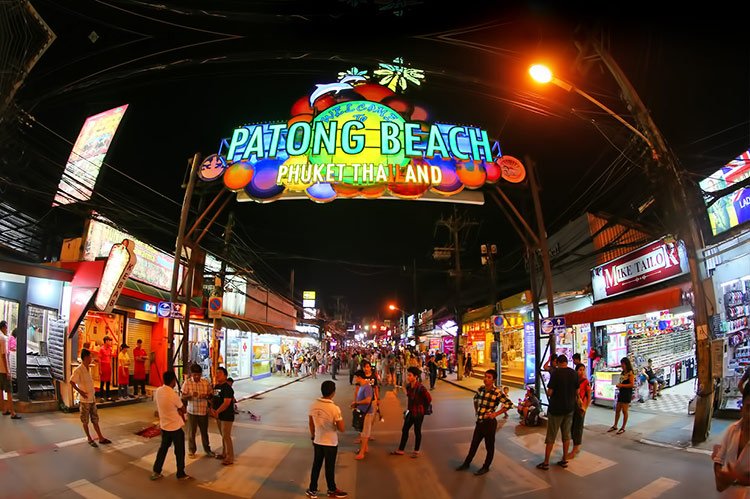 The bigger ones, where you will find the biggest and busiest clubs and bars are: Soi Seadragon, Soi Tiger, Soi Freedom, Soi Gonzo, Soi Hollywood, and Soi Lion.
They each have a different vibe and will lead you to a different and epic experience.