Things To Do On South America Cruises
South America has been on every person's wander list since time immemorial. You might not be familiar with this continent, which is strange if you say so, but it is filled with overwhelming beauty and rich culture. If you are like anyone else, this vast continent has probably been in your dreams.
Now, many people know South-East Asia from the back of their hand.
They know what to do in Vietnam, the best beaches in Thailand or what to eat in Laos.
But what about South America and what does it offer?
South America is not just famous among backpackers and tourists.
When you tell people about it, they will soon zoom out when you dish up your intended itinerary. Know all about this great continent and the different cruise itineraries you can check.
Things you need to consider before South America Cruises
South America is without a doubt a treasure trove of delights for travelers of all ages.
Because of the continent's immense size, diverse regions, and altitude contrasts, there is not necessarily a single best time to visit South America.
If you are preparing for a South America Cruises, it can be helpful to nail down where exactly you want to go.
It is also worth noting that temperatures will vary dramatically depending on your specific location, even within the same country.
In addition, it can be helpful to be aware of seasonal festivals and holidays in case you want to plan your trip around any cultural celebrations.
No matter which route, itinerary or season you choose to travel in, South American cruise-goers are bound to have an incredible experience.
#1 Consider the Season
– In deciding when to take your South American cruises vacation, it is important to know what and when the seasons are.
Note that summer occurs between November and February, while winter happens from June to August.
October and November are thought to be ideal months to visit most of South America, since several countries experience very pleasant, spring-like weather.
On the other hand, December and January are said to offer the best wildlife-watching opportunities.
Note that, in general, the farther south you travel from the equator, the more seasonal the climate will be.
#2 Plan Your Itinerary
– The best time for South America cruises is totally dependent on personal preference, in terms of where you want to go, what you want to do and what type of weather you most enjoy.
For travelers headed to Chile and Argentina, note that the northern parts of both countries experience summer temperatures from November through April.
Peru is lovely year-round, except for the rainy season between January and March.
Colombia truly comes to life during December, when the country's beaches are full of people; this is also peak season in Antarctica, thanks to the warmer weather.
Considering the scope of the continent, it is important to research where you want to go and read up on each region to determine your ideal cruise conditions.
#3 Research Festivals and Holidays
– In general, South America is well-known for its Easter celebrations, so this is often a wonderful time to visit if you are particularly interested in South American religious traditions and culture.
Brazil's Carnival season takes place during the five days leading up to Ash Wednesday, typically in March; this is a very memorable time to experience Brazil.
And Day of the Dead is a continent-wide celebration in November that's unlike any other in the world.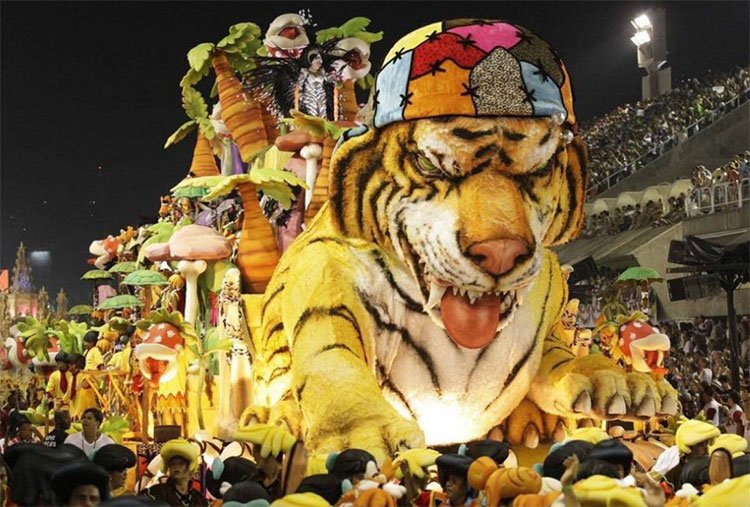 During this week-long festival, locals join processions to cemeteries and create elaborate altars of food and flower arrangements, making for an awesome, once-in-a-lifetime experience for visitors.
Best Things To Do On South America Cruises
Visit some of the most amazing ports-of-call in the world, featuring attractions that even the most jaded travelers would enjoy when you cruise to South America.
This is the type of cruise destination that offers something for everyone.
Deep rooted cultures left the remains of their great civilizations for you to explore.
Tranquil beaches await those eager for a swim in the clear waters or a sunbathing session in the shining sun.
Markets for shopping, vineyards for exploring, and clubs for dancing:
– Live out your wildest dreams with a South America cruises.
This continent is an often overlooked jewel, considering it is rich with culture, from the Carnivale of Rio de Janeiro to the Incan ruins of Machu Picchu and the landscapes of the Amazon and Tierra del Fuego.
South America is a place for exciting adventures and riveting experiences, the best of which can be experienced via a cruise vacation.
Featured below are some of the top things to do when cruising to South America:
Enjoy the passionate tango dance at one of the many cafes where the dance is performed in Buenos Aires. The tango originated in Argentina in the 1800s.
Climb a mountain in Brazil. Take a cable car to the top of Sugarloaf Mountain, which towers over Rio de Janeiro. Then head to the top of the Corcovado Mountain to stand next to the iconic Christ the Redeemer statue, which towers over the city and its nearby rainforest.
Tour the Amazon and its amazing ecosystem. You will encounter the huge variety of both flora and fauna, along with exotic animals. Learn about the tribes that still live in the Amazon Jungle and visit their villages for a look at their way of life.
Travel to the amazing Galapagos Islands where you will discover a land that seems untouched by time. Discover Darwin's theories of evolution and judge for yourself as you snorkel, hike and attend lectures on the islands.
Explore the mysterious ruins of former empires at Machu Picchu, the ruins of what is believed to be an Incan settlement that sits high in the mountains. You can also visit the curious head shaped statues on Easter Island that are said to have been created by early Polynesians.
Put on your coat because the "Land of Fire," or Tierra del Fuego, at the tip of South America is the closest land to the continent of Antarctica. Here you can set off on the adventure of a lifetime, sailing past glaciers and getting up close with some stately penguins.
Best Time To Go On South America Cruises
With climates and areas ranging from humid lowlands to tropical rainforests to chilly highlands, when to South America cruises depends completely on each specific itinerary and location.
However, the continent can be divided into a few sections with general rules for traveling times.
Amazon
– Travelers can embark on an Amazon river cruise year round.
Rain, heat, and humidity should be expected no matter the season. Wildlife viewing and weather patterns only have subtle differences from one season to the next. School holidays bring larger crowds with children.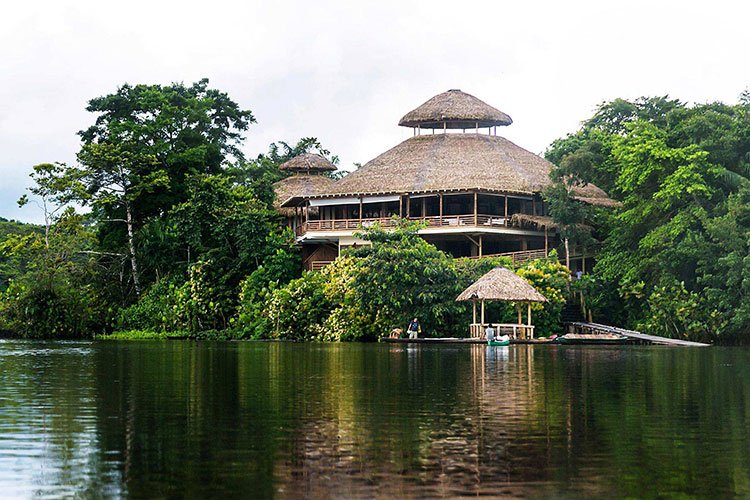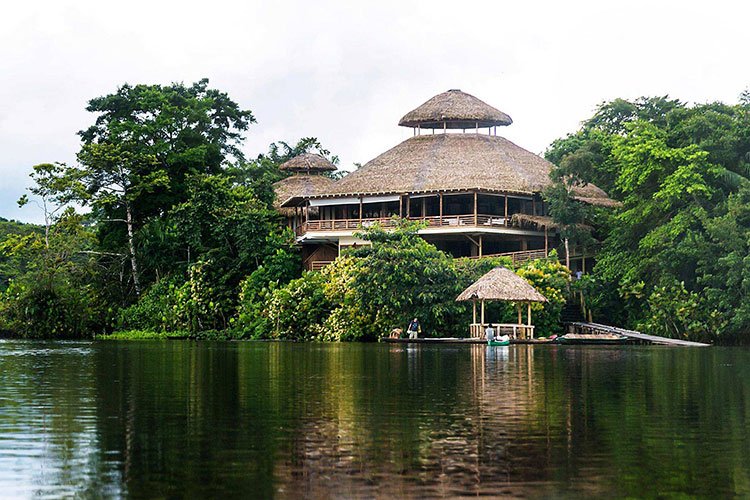 Southern South America, including Patagonia, the Falkland Islands, southern Chile and Argentina
– has similar summer and winter weather to North America, however, the months are opposite due to the hemisphere difference. That is, summertime in these regions (December and February) is similar to summer in North America: warmer and dry.
The shoulder months of October – November and March-April have cooler temperatures and smaller crowds. Winter months (May through September) are cold and travel is limited, particularly for cruises that include travel to Antarctica.
For Peru, Ecuador and the Galapagos South America cruises
For travel in northern South America, including Peru, Ecuador and the Galapagos, the weather can generally be divided into two seasons: wet and dry. Temperature is most impacted by elevation: the higher you go, the cooler it becomes.
The coastal region of Peru is fairly dry year round, with its warmest, most humid months from December to March.
These are also the wettest months; however day-long rains are very infrequent. Instead, there are rainstorms interspersed with sunshine.
Because South America is in the southern hemisphere, its seasons are opposite of those in the northern hemisphere. As a result, cruise lines' South America season typically runs from November (late spring) to early May (mid-autumn).
Regardless, prepare for varied climates that can change from hour to hour and day to day.
The further south you go, and the farther from the equator, the less summer you will experience; in December (the beginning of summer), the mountains of Ushuaia, for instance, were still gorgeously snow-peaked.
Best South America Cruises Routes
This wonderful continent begs to be explored with its range of colonial towns, mountain peaks, rainforests, white-sand beaches and much more.
#1 From Mexico in the north to Tierra del Fuego at Cape Horn
From Mexico in the north to Tierra del Fuego at Cape Horn, you will be able to visit the cloud city of Machu Picchu in Peru and the staggering waterfall at Iguazu in Argentina, and then absorb the rugged mountain beauty of Patagonia before sailing for the stunning beaches of Rio de Janeiro.
Note that cruise itineraries vary greatly from one cruise line to another, though the idea is pretty much the same. Still, below are some key points worth checking out.
#2 South America and the Falkland Islands
– Discover South America on a fantastic cruise which usually includes hotel stays in Chile and Argentina, with optional tours to Machu Picchu and Iguazu Falls.
You will definitely your nighttime in vibrant Santiago before starting your adventure from Chile to Argentina.
Sail the Chilean fjords and the Straits of Magellan on your way to the most southerly port in the world, Ushuaia.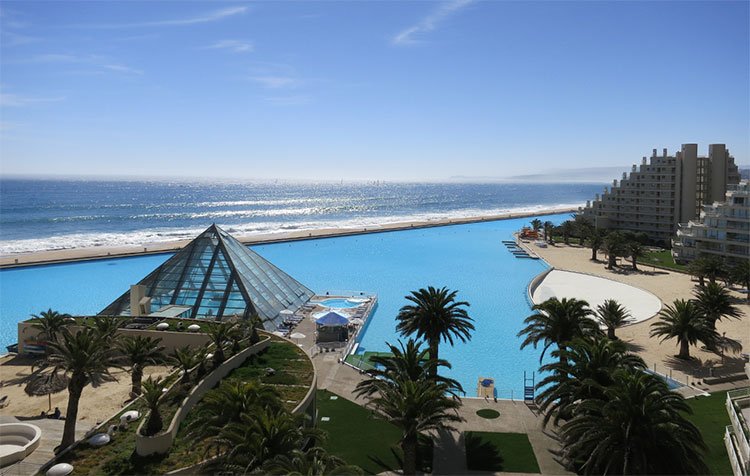 Your journey continues in the Falkland Islands before a final stop in Argentinas exciting capital, Buenos Aires.
Ports of call include Santiago, Puerto Montt and Punta Arenas (Chile); Ushuaia (Argentina); the Falkland Islands; Montevideo (Uruguay), and Buenos Aires (Argentina).
#3 The journey from Palm Trees to Amazon Rainforest
– Discover an array of Caribbean islands before cruising down the Amazon River in Brazil.
Stop off in Havana on the way back to Miami, where you will fly back to the UK. This is where you cruise experience becomes surreal.
#4 Eastern Caribbean Cruise
– Get a chance to visit St Maarten, Puerto Rico, and Haiti. Disembark in Florida prior to flying back.
Enjoy the beautiful sceneries, historical buildings, and a whole lot more!
#5 Brazil, Argentina & Chile
– This is a musically-themed cruise that provides a unique atmosphere. Inspired by the world's greatest musicians, artifacts and memorabilia from a variety of musical genres decorate your journey.
You will find instruments like Bill Clinton's saxophone and signed guitars from Queen, Iggy Pop, Eric Clapton, and the Rolling Stones on board.
Explore the incredible city of Rio de Janeiro before visiting the vibrant capitals of Montevideo and Buenos Aires and sailing around Cape Horn, the southernmost tip of the continent.
You will also enjoy astonishing views across the Straits of Magellan while discovering Ushuaia.
Best South America Cruises Itineraries To Check Out
Generally, no matter which South American cruises itinerary you choose, it will be longer than seven days (sometimes way longer).
At first glance, what seems daunting about a cruise in South America is the distance.
From the East Coast, a direct flight takes about 10 hours; carriers like United Airlines and American Airlines typically fly overnight, so you leave late one evening and arrive early the next morning – a bit like going to Europe but without jet lag.
But it can easily take 10 hours to get to Alaska, not to mention some points in Europe from the East Coast, anyway. The two most sought-after itineraries are:
The Amazon River Cruise Itinerary
– Amazon River voyages typically sail between the city of Manaus, the major metropolis of the vast Amazonas region, and either Rio de Janeiro or Buenos Aires.
Typically, cruise lines will charter a plane from Miami (or Ft. Lauderdale) for the trip to Manaus; passengers will use commercial air on the other end. Want to avoid air entirely? In some cases, cruise lines will combine an Amazon trip with the Caribbean.
Ports of Call:
The main ports of call focus primarily on Brazil with a stop or two in Uruguay before winding up in Argentina.
They range, primarily, from many undeveloped areas (where jungle sightseeing tours are the main draw) to small, rough-around-the-edges towns and cities.
Typically, ships will call in Santarem, Boca da Valeria (a village), Recife, Belem, Rio de Janeiro, Montevideo, Punta del Este and, finally, Buenos Aires.
Sights to See:
The major attraction of this itinerary on the Amazon River portion is, of course, nature and the jungle.
Cruise operators offer a variety of tours that range from canoe rides to wildlife experiences.
A particular highlight, on the river not far from Manaus, is the Encontro das Aquas, or "meeting of the waters."
This is not a port of call but rather the spot where the Amazon's black waters meet up with the tan waters and run side by side for miles without mixing.
Once ships swing around into the Atlantic Ocean and head south, down the coast of Brazil, city attractions become more important; in particular, if your ship stops in Recife try to take an excursion to Olinda, a wonderful Portuguese hilltop town that is a UNESCO World Heritage site.
Rio de Janeiro, of course, is fabulous, cosmopolitan and completely exotic.
Watch Out For:
The Amazon region and Brazil's East Coast – and especially Rio de Janeiro – are very crime-ridden.
This is not the place to wear jewelry, flash cash, or lug around expensive cameras.
This is also an itinerary where, unless you are an ultra-experienced South American traveler, it is not recommended to arrange your own tours or venture off independently.
If you really do want to wander around in places like Recife, Belem or Rio de Janeiro, consider H.L. Stern.
That internationally renowned jeweler works with cruise lines to arrange free transportation, in cities where it has shops, for passengers who want to visit its stores.
The good news: You are not obligated to buy, and the stores are always in the city's best neighborhoods.
It is considered tacky to accept the transportation and bypass the store.
Many cruisers came to regard the Stern folks as a savior on their Amazon trip. Another note: Spanish, if not Portuguese, is the language of the country and few people speak English, even in cities.
Round-the-Horn – South America Cruises
– This voyage nearly always lasts 14 nights or more and travels between Buenos Aires and Valparaiso.
The "horn" is the infamous Cape Horn, the southernmost tip of the southernmost continent – the closest you may ever get to Antarctica, which is just 1,000 miles further south.
The highlight of this itinerary, beyond a start or finish in Buenos Aires is, in order, the Chilean fjords, whose grandeur may well put Alaska's to shame, and Patagonia, a vast land of deserts and mountains that stretches between Argentina and Chile.
Some cruises include Antarctica in their itineraries – if not sailing there directly, perhaps a day-long shore excursion, via plane, from Punta Arenas, Chile.
Flightwise, cruise lines use commercial airlines to transport passengers to and from the beginning and ending points of Buenos Aires and Santiago (a two-hour bus ride from the port of Valparaiso).
Ports of Calls:
Ports are pretty limited in variety because this region is so vast and relatively underdeveloped.
From Buenos Aires, ships call at Puerto Madryn (a big attraction is the penguin spotting), Punta Arenas, Ushuaia, Puerto Montt, and Valparaiso. Other stops may include Port Stanley in the Falkland Islands.
Sights to See:
Experiencing Patagonia – the breadth and depth of its scenery, from flat, almost eerily-deserted pampas to a mountainous lakes district that looks like something out of the wildest parts of Scotland – is a breathtaking, once-in-a-lifetime experience.
The major draws, nature-wise, are penguin colonies, killer whales, and national glacier parks.
Obviously, if Antarctica appeals – and it is financially viable – it is definitely a once-in-a-lifetime experience.
Watch Out For:
Rough seas can be common, particularly as you get further south and closer to Cape Horn, though cruise lines do not usually sail around the horn itself (which is about the roughest water in the world).
Instead, they cut into various channels, most notably the Beagle Channel that runs between Chile and Argentina.
The two are studded with gorgeous snow-covered mountains and glacier-marked fjords.
Visiting Antarctica – South America Cruises
If you want to really experience Antarctica as more than a day trip, beware of ship itineraries that list it as a destination but do not actually let passengers off the vessel.
Another important note: weather changes markedly on this itinerary. Usually, it starts in Buenos Aires, when the temperatures are in the mid-90s.
As you travel further south, the weather turned cooler, and highs in the 50s and 60s are more common.
Then, as you sail up the Chilean coast, it gets progressively warmer. It is important to pack for a range of conditions.
While the region is developing a tourism infrastructure, do know that most folks speak only Spanish (very little English).
And because major attractions, beyond the cities at each end, are more about nature and wildlife than urban haunts – and generally quite a distance from the port – this is an itinerary where taking the ship's shore excursions is highly recommended.
A final caveat:
Even in the height of summer, sea conditions can be dicey, so captains may have to cancel a call at a particular port at the last minute.
For instance, it is a good idea not to get your heart too set on Port Stanley, in the Falklands; one cruise captain might tell you that he can only get the ship in about half the time.
Extending the South America Cruises Trip
Because South America is so vast – and much of it lies in interior regions – there are many once-in-a-lifetime sights that cannot be seen on a day-long port of call stop.
This is a region where it is a particularly good idea to consider taking advantage of your cruise line's pre- and/or post-voyage experience. Of particular note:
The spectacular Iguazu Falls, which borders Argentina and Brazil, and includes an awesome rain forest park.
A trip to Salvador de Bahia, in Brazil, which is a mystical place of native, Portuguese and African cultures.
From Santiago, a trip to the Incan Empire of Machu Picchu.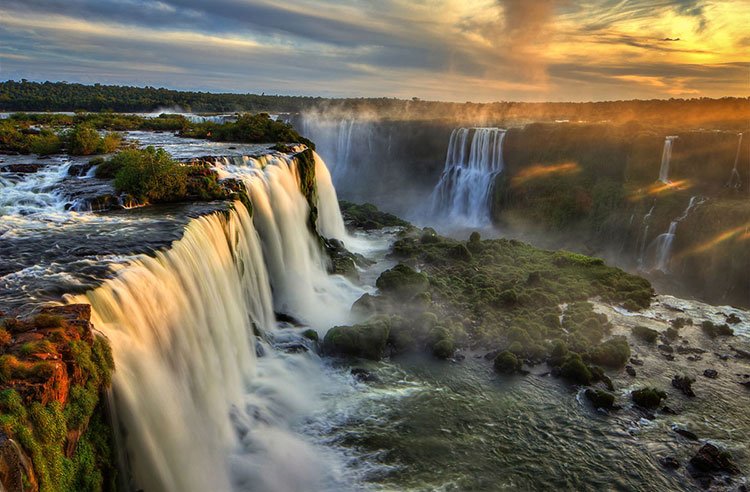 Top Reasons Why South America Cruises Should Be Part Of Your To-Do List
South America is a top destination for cruise lovers. Here are just a few of the reasons why a South American voyage should be on your travel radar!
#1 Culture
– The culture of South America is lively and colorful. Music, art, and dance are a vibrant part of every city. Enjoy a sultry tango performance in Buenos Aires.
Rio's famed Scenarium is the city's leading venue for live music.
It is a dream come true for art lovers. You can easily fill your time with visits to museums and galleries, or see why Buenos Aires is one of the street art capitals of the world.
#2 Architecture in Buenos Aires
– El Ateneo is one of the most famous – and most beautiful – bookshops in the world. It opened as a theater in 1919 and features stunning ceiling frescoes and ornate carvings.
The Puerto Madero skyrises lit up at night, are an example of new trends in architecture in Buenos Aires.
The Buenos Aires Metropolitan Cathedral, on the other hand, is the main Catholic Church in Buenos Aires, located in the city center.
It has been rebuilt many times since the 16th century, resulting in a fascinating mix of architectural styles.
#3 Rio at Night
– When it comes to some cities, if you have not seen it at night, you have not seen it at all. Rio de Janeiro is one of those cities; it comes alive at night.
#4 Iguazu Falls
– These breathtaking waterfalls are on the border of Argentina and Brazil.
They consist of 275 falls along 1.67 miles of the Iguazu River. The Devil's Throat is the most impressive of them – a U-shaped, 82 meter high, and 150 meter wide waterfall.
#5 Beaches
– One of the best things about a South American cruises is getting to experience the many amazing beaches the continent has to offer. Punta del Este's Brava Beach is famous for the sculpture called "Mano de Punta del Este" or "The Hand."
Beaches, shopping, and entertainment make this upscale resort town a favorite with Azamara cruisers. Ilhabela means "beautiful island", and this Brazilian port lives up to its name.
Visitors love the luscious jungles, state park trails, stunning waterfalls and, of course, several fantastic beaches. Rio's Copacabana Beach is perhaps the most famous in the world.
At 4km long, the beach is perfect for surfing, sunbathing and people-watching. This beach also hosts one of the most exciting New Year's Eve parties in the world!
#6 Relaxing in Parati, Brazil
– Visit Parati, Brazil and you will feel as though you have stepped back in time 300 years.
The delightful town has been named a national historic monument.
Parati's Portuguese colonial architecture remains intact, and you will love walking the cobblestoned old town center, where cars are not allowed.
Join a shore excursion to tour a local Cachaca Distillery, where strong sugar cane liquor is brewed to make Brazil's delicious national cocktail, the Caipirinha.
#7 Christ the Redeemer Statue
– Rio de Janeiro's Cristo Redentor is one of the most famous landmarks in the world. A visit to the statue delivers the most impressive views of the city, and the statue itself looks most beautiful at sunset
Why South America Has Become Marquee Destination ?
#1 Climate
– The climate in South America can vary quite greatly from region to region, but tropical temperatures can be found all over the continent – with the exception of Patagonia, the southernmost area of land shared between Argentina and Chile, where you can expect to find glaciers. So whether you are looking for sun and tropical birds, or glacier hiking – South America has it all and everything in between!
#2 Family-friendly
– If you are looking for an adventure that is fit for all members of the family, South America offers plenty of options. Hotels and restaurants are more than accommodating, and will often cater exclusively to your family's needs to ensure the utmost comfort.
Outside of the hotel, there are activities for all ages and activity levels: hiking, rafting, zip-lining, learning to surf, cook or speak Spanish, cruises and walking tours – just to name a few.
#3 Culture
– South America is rich in diverse and deep-rooted cultures stemming from hundreds of years of history and tradition.
Colonial and native history have intermingled and produced some of the most vibrant cultural landscapes in the world.
From the Argentine Gaucho to the Andean Shaman, you are sure to experience full cultural immersion anywhere you visit in South America.
#4 Affordable
– You can visit several unique countries and stay in some of the most luxurious accommodations for a fraction of the price of a vacation to other parts of the world.
An 8 night visit to Peru that covers some of the most famous historical sites in the world – Machu Picchu – can cost very cheaply.
This price includes accommodations, transfers, guided tours, and excursions.
#5 Cuisine
– There is nothing quite like South American cuisine. With influences from indigenous populations, nations in Africa, Spain, Germany, and Italy, you will find yourself feasting on rich, flavorful dishes, and luscious tropical fruit.
You will be accompanying your meals with wines from some of the top vineyards in the world and other beverages unique to the region, and finishing with mouthwatering desserts and pastries.
#6 Still Undiscovered
– South America boasts over 100 UNESCO World Heritage Sites in South America like the Iguacu National Park in Brazil, the Galapagos Islands, Los Glaciares National Park in Argentina, and Machu Picchu in Peru –but there is still so much yet to be discovered.
#7 With millions of miles of Amazonian rainforest, hundreds of islands
– many of these places have yet to be troubled by human influence, which is part of what makes South America such a mysterious, yet fascinating continent.
#8 Easy access from North America
– U.S. carriers have been noticing the up swinging trend of people choosing to visit South America, so non-stop flights and cruises to South American cities are becoming more commonplace.
This includes itineraries to Lima, Sao Paulo, Buenos Aires and many more, all of which leave daily from major cities in the US like New York, Atlanta, Houston and LA – so you can spend less time in the airport and more time in the Amazon.
#9 Leader in design
– If the wonders of modern architecture are your passion, Brazil's Niteroi Contemporary Art Museum designed by world renowned architect Oscar Niemeyer, is one of South America's jewels.
But that is not all modernism has touched in the continent.
Bicycle infrastructure has developed rapidly in many cities including Colombia, which shuts down streets in Bogota on Sundays to motorized traffic and Buenos Aires that has designed over 87 miles of protected bike lanes.
#10 Blooming Tourism Infrastructure
– South America is no stranger to tourism, so it is definitely done well. All-inclusive hotel and lodge experiences are some of South America's specialties.
Vira Vira in Pucon, Chile, for example, promises an unforgettable stay with unique lodging, meals, and excursions all planned for you – so you do not have to do anything but enjoy!
#11 Safety
– You just do not often hear of South America in the headlines when it comes to terrorism-related safety concerns.
Uruguay is considered one of the safest countries in South America, and Argentina, Chile and Ecuador follow close behind.
It is important when travelling anywhere, however, to practice vigilance and to not be apparent with valuables like jewelry and tech gadgets.