Best Things To Do & Places To Visit On Hawaii Cruises
Most Hawaii cruises depart from the West Coast of North America to the islands, with either a one–way trip ending in Honolulu or a longer round–trip cruise returning to the mainland.
There are cruise lines, however, that offer intra–island cruises. These are the type that starts and end in Honolulu.
In both cases, the time of year plays a part in the overall pleasantness of a Hawaiian cruise. The best time of year to take a cruise depends on your particular needs.
When You Should Go To Hawaii Cruises?
Most visitors come to Hawaii when the weather is lousy elsewhere. Thus, the high season—when prices are up and resorts are often booked to capacity—is generally from mid-December to March or mid-April.
In particular, the last 2 weeks of December and first week of January, are prime time for travel to Hawaii.
Spring break is also jam-packed with families taking advantage of the school holiday.
If you are planning a trip during peak season, make hotel and rental car reservations as early as possible, expect crowds, and prepare to pay top dollar.
The winter months tend to be a little rainier and cooler. But there's a perk to traveling during this time: Hawaiian humpback whales are here, too.
The off season, when the best rates are available and the islands are less crowded, is late spring (mid-Apr to early June) and fall (Sept to mid-Dec).
If you plan to travel in summer (June–Aug), do not expect to see the fantastic bargains of spring and fall—this is prime time for family travel.
But you will still find much better deals on packages, airfare, and accommodations than in the winter months.
Weather and Holiday Seasons On Hawaii
Hawaii itself is warm year–round and is divided into two basic seasons. The dry season takes place from April until October, with temperatures rising to the mid–80s in the daytime and dropping to the mid–70s at night.
Rainfall is slight in the summer months, averaging half an inch from June through August.
The wet season, from November until March, witnesses a steep increase in rainfall — three to four inches each month on average — although daytime highs stay in the mid–70s on average.
High Season
– Tourist season in Hawaii comes when the weather is bad in other parts of the world. That means winter cruises from December through March tend to be crowded, particularly the two weeks around Christmas when people are away from work or school.
Summer also translates into large crowds, since there isn't much rain and kids are out of school; Cruise Critic describes summer as "family season" when you are apt to see more people with children on a cruise.
There tends to be more cruises during these periods, allowing tourists to tailor specifics to more readily meet their needs but with an attendant upswing in crowds.
Off–Season
– The shoulder season and offseason for Hawaiian cruises takes place between September and mid–December, and again between the middle of April and the middle of June.
Ticket prices tend to drop and the crowds are more sparse. In addition, the weather in Hawaii is almost ideal during these periods.
On the downside, there are not as many cruises taking place during this time, and they may offer fewer off–shore activities and similar perks.
Pacific Weather
– Precipitation in the eastern Pacific Ocean matches that of Hawaii, with rainfall increasing significantly during the winter months, only to taper off in May, June, and July.
If you travel during the winter months, expect to spend more time below decks on the cruise ship than you would in the summer.
Public Holidays In Hawaii
Holiday weekends always see an upswing in tourist travel, which includes plane tickets to the West Coast and/or Honolulu as well as hotel rooms before and after a cruise.
In addition, certain dates have a special significance for Hawaiians, and you may see an increase in crowds both on your ship and at offshore excursions during these periods.
They include Asian holidays such as Chinese New Year and Buddha's Birthday (April 8), various Aloha festivals taking place in September and October, and Pearl Harbor Day (December 7) commemorating the Japanese attack on the island.
When Hawaii observes holidays (especially those over a long weekend), travel between the islands increases, inter-island airline seats are fully booked, rental cars are at a premium, and hotels and restaurants are busier.
Federal, state, and county government offices are closed on all federal holidays.
Federal holidays include New Year's Day (Jan 1); Martin Luther King, Jr., Day (Jan 21); Presidents' Day (Feb 18); Memorial Day (May 27); Independence Day (July 4); Labor Day (Sept 2); Columbus Day (Oct 14); Veterans Day (Nov 11); Thanksgiving (Nov 28); and Christmas (Dec 25).
State and county offices are also closed on local holidays, including Prince Kuhio Day (Mar 26), honoring the birthday of Hawaii's first delegate to the U.S. Congress; King Kamehameha Day (June 11), a statewide holiday commemorating Kamehameha the Great, who united the islands and ruled from 1795 to 1819; and Admission Day (Aug 16), which honors the admittance of Hawaii as the 50th state on August 21, 1959.
Interesting facts about Hawaii cruises
Because Hawaii lies at the edge of the tropical zone, it technically has only two seasons, both of them warm. There is a dry season that corresponds to summer (Apr–Oct) and a rainy season in winter (Nov–Mar).
It rains every day somewhere in the islands at any time of the year, but the rainy season can bring enough gray weather to spoil your tanning opportunities.
Fortunately, it seldom rains in one spot for more than 3 days straight.
The year-round temperature does not vary much.
At the beach, the average daytime high in summer is 85°F (29°C), while the average daytime high in winter is 78°F (26°C); nighttime lows are usually about 10° cooler. But how warm it is on any given day really depends on where you are on the island.
Each island has a leeward side (the side sheltered from the wind) and a windward side (the side that gets the wind's full force).
The leeward sides (the west and south) are usually hot and dry, while the windward sides (east and north) are generally cooler and moist. When you want arid, sunbaked, desert-like weather, go leeward.
When you want lush, wet, rainforest weather, go windward.
Hawaii also has a wide range of microclimates, thanks to interior valleys, coastal plains, and mountain peaks. Kauai's Mount Waialeale is one of the wettest spots on earth, yet Waimea Canyon, just a few miles away, is almost a desert.
On the Big Island, Hilo ranks among the wettest cities in the nation, with 180 inches of rainfall a year.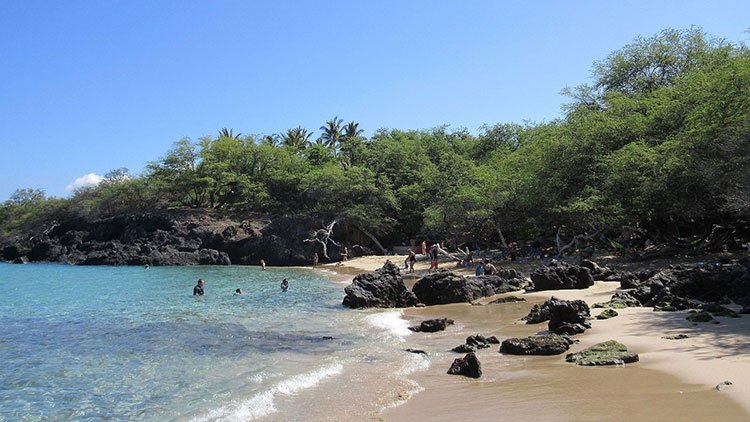 At Puako, only 60 miles away, it rains less than 6 inches a year.
The summits of Mauna Kea on the Big Island and Haleakala on Maui often see snow in winter—even when the sun is blazing down at the beach.
The locals say if you don't like the weather, just drive a few miles down the road—it is sure to be different!
Smoking in Hawaii
Well, not totally no smoking, but Hawaii has one of the toughest laws against smoking in the U.S.
The Hawaii Smoke-Free Law prohibits smoking in public buildings, including airports, shopping malls, grocery stores, retail shops, buses, movie theaters, banks, convention facilities, and all government buildings and facilities.
There is no smoking in restaurants, bars, or nightclubs.
Most B&Bs prohibit smoking indoors, and more and more hotels and resorts are becoming smoke-free even in public areas.
Also, there is no smoking within 20 feet of a doorway, window, or ventilation intake (so no hanging around outside a bar to smoke—you must go 20 ft. away). Even some beaches have no-smoking policies.
Places to visit and things to see on your Hawaii Cruises
Like a lot of visitors to Hawaii, you are probably wondering which Hawaii island to visit and thinking about which one would be best for you and your travel party.
The islands are very diverse and each one has its own unique offerings, making choosing an island rather difficult.
And once you have started visiting the islands, coming back to a different island can often feel like a totally different place with a whole new set of experiences, sights, and attractions.
Keep in mind that each island truly is spectacular and one is most certainly not "better" than another.
That said, this part here will objectively tell you about the major islands in the Hawaiian chain so you can pick the island that is just right for you. And for sure, you will soon have a favorite.
#1 Big Island of Hawaii – The Orchid Isle
Larger than all of the other islands combined, the island of Hawaii, also known as Big Island, encompasses 11 of the world's 13 climatic zones – from white sand beaches to snow-capped mountains.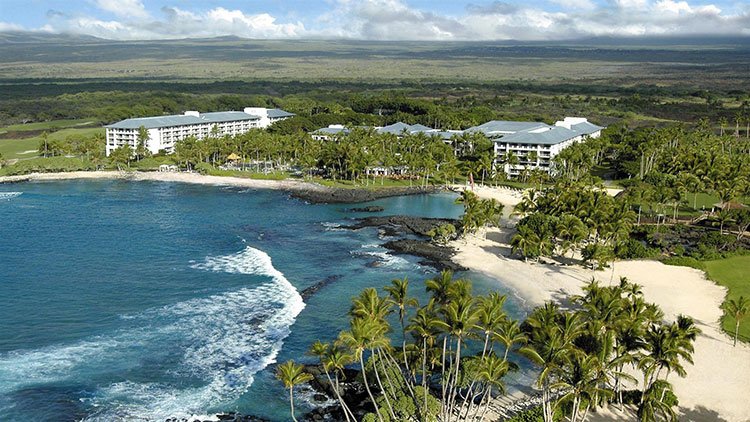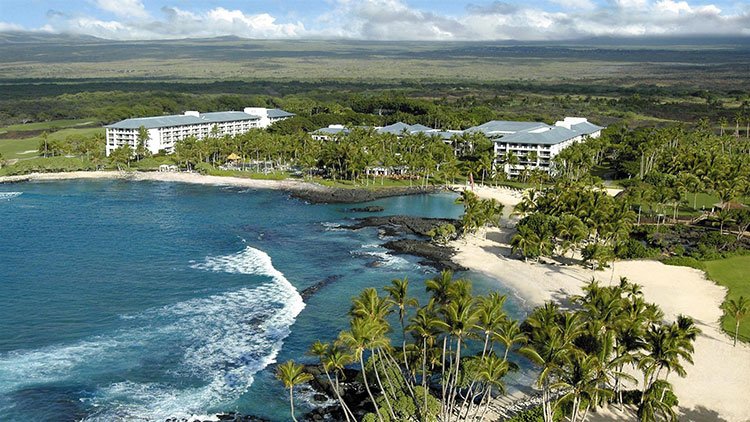 See waterfalls, rainforests, and botanical gardens near Hilo; explore the historic PuuKohola Heiau, north of Kona; or view Kilauea, one of the world's most active volcanoes, in Hawaii Volcanoes National Park
Highlights of Orchis Isle:
Historic Kailua-Kona Town – Historic seaside hot spot.
Waipio Valley – Hawaii's largest isolated inhabited valley.
Downtown Hilo – Discover local treasures in the island's capital city.
Ka Lae (South Point) – The southernmost point in the United States.
Hawaii Volcanoes National Park – Home of one of the world's most active volcanoes and otherworldly scenery.
#2 Kauai – The Garden Isle
The oldest and northernmost island in the Hawaiian Island chain is graced with dramatic, natural beauty.
Explore the trails of Kokee State Park, see Waimea Canyon- the "Grand Canyon of the Pacific"- or take time to relax in one of the many beautiful gardens of the aptly named Garden Isle, such as Limahuli Garden.
Highlights Of Kauai:
Wailua Falls – Kauai's most popular waterfall.
Kalalau Trail – Spectacular coastal trail on Kauai's North Coast.
Poipu Beach – Voted one of America's best beaches.
Waimea Canyon – Nicknamed the "Grand Canyon of the Pacific."
Maui – The Valley Isle
The second-largest island is home to what some believe are the best beaches in the world.
If you visit during the winter months, book a tour to see the majestic whales, as Maui has some of the world's best whale watching.
Wake up early to catch the sunrise at Haleakala, stroll through historic Lahaina town, or drive the majestic Road to Hana for spectacular scenery.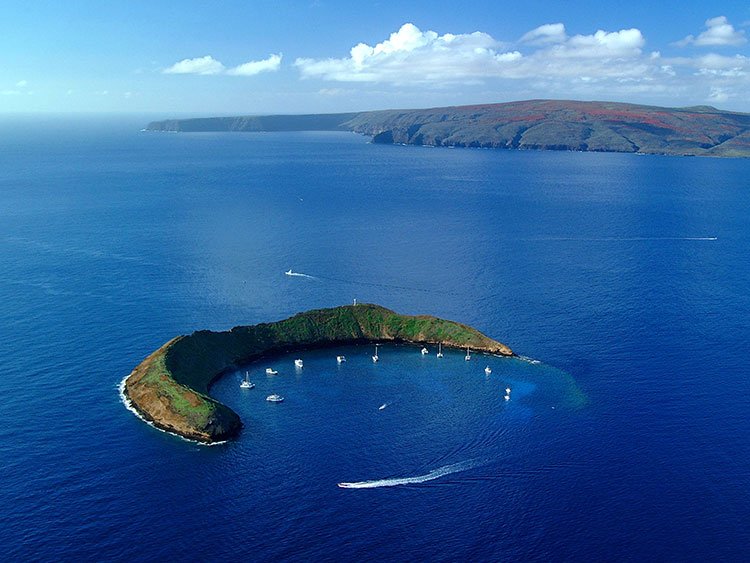 Highlights of Maui island:
Lahaina Town – Whale watch, shop, and dine in this historic hot spot.
Makena Beach State Park (Big Beach) – One of Maui's largest beaches.
Iao Valley State Park – Historic site home to the iconic Iao Needle.
Haleakala National Park – Scenic home of Maui's highest peak.
Hana Highway – Famous for the scenery, twists, and turns on the way to Hana town.
Oahu – The Gathering Place
Home to the state capitol of Honolulu and the majority of Hawaii's population, Oahu is a vibrant mix of natural and cultural wonders with the entertainment and amenities of the 21st century.
Check out the waves on the famous North Shore, relive American history at the memorials and museums of Pearl Harbor, or soak up the sun and take a surfing lesson on Waikiki Beach.
Highlights of Oahu:
Waikiki Beach – Iconic gathering place for visitors from around the world.
Pearl Harbor – Explore the historic sites recounting the Pearl Harbor attack.
Hanauma Bay & Nature Preserve – One of Hawaii's premier snorkeling sites.
Nuuanu Pali Lookout – Historic spot with fantastic mountain views.
North Shore – the Legendary birthplace of big wave surfing.
As noted, selecting the right island is no easy task for many visitors.
It can be a confusing and even frustrating job, and that is probably the last thing anyone wants when planning a trip to Hawaii.
Travel Tips On Packing to Hawaii cruises
No matter how much traveling you have done before, one tip serves as the "Golden Rule of Packing" for Hawaii: leave as much as possible at home.
So what items should make the cut?
Check out the suggestions below to make sure you have exactly what you will need.
#1 Casual Warm Weather Clothing
– With the exception of the most exclusive resorts, most places in Hawaii have a casual atmosphere. This means that shorts and a nice Aloha shirt are perfectly appropriate for dining out, even in the "fancier" establishments.
You will want several T-shirts, a few pairs of shorts, flip-flops or sandals, and a hat or visor. Cotton blend clothing is always a good option.
#2 Light Jacket, Long Pants, Raingear
– It really pays to be prepared for the chillier weather, especially if you will be visiting some of the higher elevations. If you do, it is best to consider layering your clothing so you will always be comfortable.
You will want a lightweight rain jacket or poncho (a preferred and cheaper option is the emergency poncho, as it is both light and easy to transport), especially for rainforest and mountain hiking.
Your winter coat can stay behind unless you think you'll need it on the summit of Haleakala or Mauna Kea for those sunrise/sunset trips.
#3 Sunscreen
– This one here cannot be emphasized enough: you absolutely do not want to ruin your dream vacation with a sunburn. Even if it is cloudy and rainy, the UV index can be very high, so be sure to slather some on.
Please choose a coral reef safe brand, as traditional sunscreen contains chemicals that damage and even kill the precious reefs.
#4 Backpack
– To carry your necessities while out and about, especially when hiking.
#5 Water Bottle
– Hawaii's warm climate, combined with activities such as hiking, running on the beach, etc., make it very important to stay hydrated with a good water bottle.
#6 Swimsuit and Cover Up/Sarong
– No one wants to put on a soggy suit. Take two, so you can wear one while the other dries.
#7 Footwear
– Always Choose flip-flops, sandals, or other comfortable and lightweight shoes for beach/poolside and walking.
If hiking is on the itinerary, you will need some sturdy hiking boots.
Most zipline operators also require some sort of closed-toe shoe, as well. Do not buy new shoes right before you leave without breaking them in; you certainly do not want blisters at the outset of your vacation.
#8 Bug Spray with DEET
– Rainforest hikes can make you a mosquito magnet; head them off at the pass before they nibble on you.
#9 Camera
– Of course, you will want to take lots of pictures of your tropical getaway, so now is the time to invest in a good digital camera.
Make sure your photos will be backed up somewhere should lose your camera or phone. Of course, what equipment you choose to take may vary (a casual vs. professional photographer, for instance).
#10 Flashlight
– You will certainly appreciate having one if the sun sets before your hike ends, or for nighttime strolls along the beach. It is best to use long-lasting LED powered lights to traditional flashlights.
Also, remember to take any personal items that you cannot do without, such as medications, glasses or contacts, necessities for traveling with children, and the like.
Top Reasons To Choose Hawaii Cruises
With its sheer natural beauty, warm hospitality, seemingly endless activities and attractions, it is no wonder 8.9 million travelers visited Hawaii in 2016.
But which is better, visiting Hawaii by land or by cruise?
The latter is always a better option, as there is no-hassle. It simply is a stress-free holiday experience in Hawaii with a multi-award-winning itinerary incorporating 4 beautiful Hawaiian islands – Oahu, Maui, Hawaii, and Kauai.
#1 See All The Islands
– The thing that stopped most people from visiting Hawaii for so long was simply due to the fact that they didn't know which island to visit.
Some may want to see the volcano on The Big Island, while others may go for a snorkel in Maui. There are also cases when you just wanted to see the beauty of Kauai.
Trying to do all of that on one trip, flying between the islands seemed daunting.
But with going on the best cruise lines, you should be able to do that and more.
The Hawaii cruises leaves from Oahu and stops in Maui, Hilo on the Big Island, Kona, and Kauai, before heading back to Oahu.
With almost 2 full days in Maui and Kauai, you should have enough time to see and do a lot.
You will simply get a taste of everything. And boing so, you will know where to explore and spend more time.
The Hawaiian islands are beautiful and have activities for everyone. If you love hiking and outdoor activities, you have plenty to keep you busy.
If you want something a little bit more low key, you can lay on the beach or walk around the cities, or visit the fruit of coffee plantations. Each island is different and something new to see.
The ship sails by the Napoli coast on Kauai, so you can see the majestic beauty of that from the ship, you do not have to take a separate boat tour while on the island.
#2 High quality of Cruise Ships
Most cruise ship holds about 2400 people. But you do not feel packed in and like you are fighting the crowd. There are plenty of pool chairs and pool space for everyone.
With countless bars on board, you can always find a drink easily.
Each night in the theater, there is a show you can go to.
Everything from comics to magicians to a song and dance shows. It is even possible for you to see celebrities, with some even performing on the ship.
Hawaii Cruises ships have talented performers and very entertaining shows.
If you decide not to get off the ship at a stop or come back early, there are plenty of activities to keep you busy on board. There is more than just sitting by the pool.
You can find a game room, library, ping pong, shuffle board, and more. The staff also puts on trivia contests, crafts, games, a daily movie, and other challenges.
#3 Convenience
When you stop on the ship, everything that you need is there, in one place.
Your room, food, shopping, and entertainment – everything.
And it goes from port to port for you. So you can go to your room, unpack your stuff, get comfortable and stay in the same place for 7 nights.
Each room has a closet full of hangers, shelves, drawers, and other storage for you.
So you can empty your suit case, push it under the bed, and forget out it until Friday. Each morning a cabin steward will come to make your bed for you, put out fresh towels, and tidy up.
Then while you are eating dinner they will be back to turn down your bed for the evening. Definitely catering you could get used to.
#4 Inter-Island
– While island hopping sounds like fun, in theory, it is no fun to waste precious vacation time paradise trying to book flights, followed by standing around airports waiting to take those flights. Like, really, why would you want to?
#4 Makes Financial Sense
With an advance booking, a one-way island-hopping flight will cost about $100 per person. But with a cruise, your inter-island transportation is included. Also, eating land-based meals in Hawaii can get expensive. But you can enjoy the free restaurants onboard.
#5 The Food On Hawaii Cruises
Cruise lines have countless dining options. Others, however, only have 2 main dining rooms, that are a casual dress, and you can be seated at any time. Then they have the buffet for those that just want to grab something quick.
You can even find a urger gar, a 50's style diner, a gelato place, a spot for cupcakes and more wandering around the ship as well.
And to top it off they have 5 specialty restaurants. The specialty restaurants do cost more but are so worth it.
#6 Saves You Money
– Going to Hawaii is expensive. You can check at hotels on most of the islands and you might find it hard to come by anything decent that is less than $250 a night.
And obviously, you do want to stay in the same place each night, so flying to the different islands, renting a car, eating out every meal, it adds up fast! The price of cruise lines include all of your lodging, meals, and transportation to each island.
Although you have to pay for is the activities you want to do, you will be happy knowing that you have seen more than you could even imagine doing on your own.
Hawaii Cruises Holiday Seasons – When is best time to visit ?
#1 Spring season in Hawaii
– Less rain starts to fall on the islands as the trade winds die down to their summer levels, making this an ideal time to visit. Some call this the start of the "dry" season.
The weather is almost always perfect, and, in general, this is the best time to find good bargain travel activities. After mid-April, most airfare and lodging prices drop as a result of the "high season" ending.
The last week of April and the first week of May are often a time when the most Japanese visitors will arrive due to the "Golden Week" holiday in Japan.
Water temperatures measure near the high 70-degree mark this time, and the surf begins to die down as the trade winds let up. The best part of the spring is the fresh flowers, fruit, and vegetation that can be seen around the island.
This is definitely going to your favorite time to visit.
Keep in mind that spring does hold one large event on the Big Island of Hawaii that can cause crowding on the Hilo side of the Island: the Merrie Monarch festival, which is held annually starting on Easter Sunday.
#2 Summer season in Hawaii
– Typically, summer is classified on Hawaii as the "low season." This results in lower rates for both accommodations and rental vehicles.
However, this "low season" classification can often be misleading, as for June through August are very popular with travelers.
Airline prices will often increase into late June through July, as demand is higher for seats nationwide.
Thus, if you are flying from the East Coast, the most expensive flight you pay for might ironically be the continental flight to the West Coast.
According to the tourism authority in the islands, July continues to be the month with the most visitor arrivals.
Actually, this really makes sense because this is the time when most families visit the island, as their children are out of school.
The same is true for local children on the island; this is their summer and they often frequent the same beaches, trails, and places you will be visiting, too.
The summer months are always the warmest on the island, and temperatures can reach as high as the 90's under the right conditions.
Combined with the high humidity, the heat can occasionally be unpleasant for some travelers not accustomed to it.
Surf is at its lowest during the summer, and the rain clouds are few and far between, except on the windward coast.
Top Things To Do On Hawaii Cruises
#1 Snorkeling on Hawaii
– This one here offers a shark tour unlike all others, the only one in which guests snorkel without a cage, and the only one that goes to where the sharks live rather than attracting them with food, so they can be observed in a calm, natural state.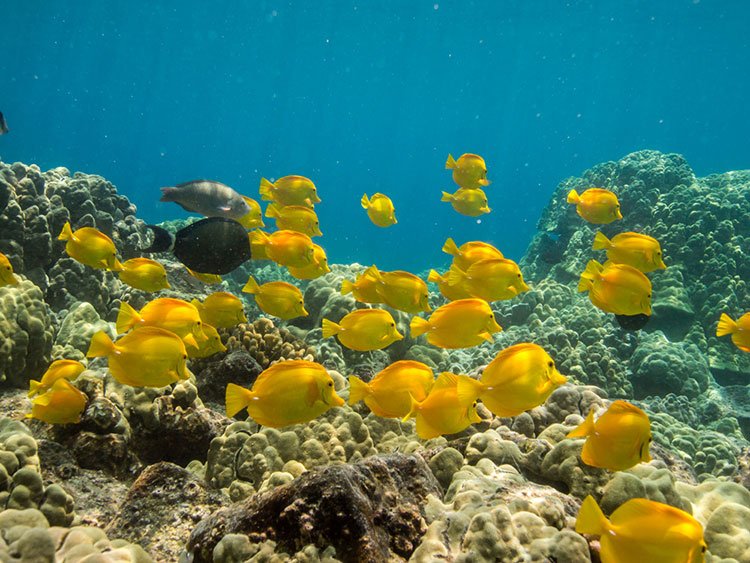 This is an exhilarating experience, perhaps even life-changing, a chance to get up close with the oceans' apex predators and gain new insight and understanding of these magnificent creatures.
There are no age requirements here, but guests must be at least 4 feet tall and strong swimmers: children must be accompanied by two adults.
Tours are two hours long, with about 30-45 minutes in the water. Operating out of Hale'iwa, close to the river for an amazing SUP experience, surfing spots Banzai Pipeling and Waimea Bay, and famous Matsumoto's shave ice (though Anahulu's down the street is more flavorful, shorter line, and less expensive).
#2 Doors Off Helicopters
– About seventy percent of gorgeous Kauai is inaccessible by foot; the only way to see it all is by riding a helicopter, and flying with the doors off means the stunning views are completely unobstructed.
Breathtaking landscape surrounds guests, including the Na Pali Coast, Waimea Canyon, Mount Waialeale, and Jurassic Falls.
For doors-off tours, passengers must be at least ten years old.
They do offer tours with the doors on (and air conditioning) that are suitable for younger guests; however, this can wind up being an expensive nap for little ones!
Tours last 60 or 90 minutes in total airtime; plan for additional time for safety instructions and transportation to and from the helicopters (provided by the company).
#3 Manta Ray Night Dive and Snorkel Ecoadventure
– Some cruises hels guests get up close to these gentle giants, averaging a twelve foot wingspan.
Around sunset, boats leave the Kona coast for the offshore gathering spot of hundreds of rays.
Manta rays are attracted to the area using lights, held onto by guests, and they put on a show of waving and rolling in search of plankton within inches of the snorkelers.
There are no age restrictions, but six years and up is recommended.
The three-hour tour leaves from Honokohau Marina, close to Pine Trees Surfing Beach and Ocean Rider Seahorse Farm, making it a perfect ending for a day of sun, sand, and nature.