Caribbean Cruises – Things To Do & Places To Visit
When it comes to cruise destinations, there is no doubt that the Caribbean cruises are among the popular ones. However, it is important to keep in mind that not all of these cruises are created equal.
Hence, it is ideal to select a cruise that perfectly suits your interests, schedule, and budget. For starters, there are around 20 cruise lines that currently sail the Caribbean.
Most Americans are fond of choosing massive ship cruises, with the Royal Caribbean and Carnival being huge examples.
Although these ships are known to offer a plethora of activities and amenities, they are still limited by size to only the largest ports.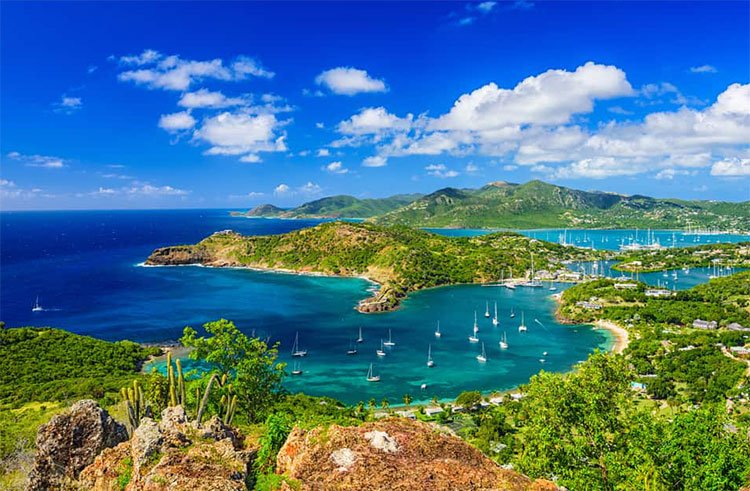 Caribbean Cruises – Tropical Paradise Cruise
If it has been your desire to experience a unique and tropical paradise, then look no further than the Caribbean.
It provides an array of beautiful tropical settings, ready to take you deep into a paradise getaway.
Each Caribbean cruises shore excursion you carefully select is designed to give you a memorable experience, from active water sports to lounging on sun-drenched tropical beaches.
Seeing the Caribbean from a ship is impressive. Exploring and experiencing the islands on shore tours and in the water is what the true Caribbean is all about.
There are various shore excursions to choose from.
For starters, the Roatan shore excursion trip can let you experience the thrill of riding a horse along a pristine beach, zipline through the jungle, or relax on a sugar sand beach.
Add to this is Cozumel shore port excursion, which lets you explore the fascinating local reefs from a boat or in the turquoise waters.
Take a Nassau, Bahamas cruise excursion to enjoy the amenities at the world-class Atlantis resort, golf by the sea, or explore the many local artisan shops.
As one of the most popular cruise destinations in the world, the Caribbean has plenty to offer visitors from all walks of life.
A tropical paradise, gorgeous sights, and a vibrant culture await.
How To Book Right Caribbean Cruises
Keep in mind that not every Caribbean island offers a cruise port, though the list has seen to be growing.
Another thing to remember is that most, if not all, cruise ships tend to stop in more exotic locations.
Some of them offer Western and Eastern Caribbean cruise itineraries, which are the types you would want to choose in the first place.
If you plan to move forward with the big ships, it is expected from you to see ports such as the San Juan and the Grand Cayman.
Smaller ships, on the other hand, will bring you to places, such as BVI, Nevis, and Virgin Gorda.
Other cruise lines, most of which are the biggest in the industry, offer stops at private islands.
How Long Should You Cruise the Caribbean?
When it comes to this part, Caribbean cruises tend to differ greatly. Still, they are either 3, 4, 7 or 10 nights.
Longer cruises, in particular, love to combine Caribbean port calls with stops in Mexico's Riviera Maya, Central or South America. This also includes Panama Canal transits.
Longer repositioning cruises can begin or end in the Caribbean as lines move ships to Europe seasonally.
Price is one factor in how long your cruise; another is how long you enjoy being at sea. Even a big ship can feel confined after a few days; choosing itineraries with more, longer port calls can help.
How Far In Advance Should You Book A Cruise?
Generally speaking, most cruises can be booked anywhere from 18 months to one week ahead of sailing.
It is true that the time to choose to book the cruise is all up to you, but there are pros and cons for booking early or late.
Booking further ahead gives you more choice when it comes to cabin location.
So, if you want a specific cabin or even a particular category that happens to be popular (certain suites or balcony types tend to sell out early), you will want to book as soon as possible.
The closer to the date of sailing your book, the less choice you will have but the more likely you are to save money.
With the exception of high-demand sailings (like those during school holidays and each destination's high season), the prices on most Caribbean cruises tend to drop as the sail date approaches.
In both cases – booking early or late – you are liable to get extra perks.
Cruise lines use incentives to get people to book early (usually six months to more than a year out) or close-in when ships have not sold out.
Perks can include extras like prepaid gratuities or a free dinner in a specialty restaurant.
Getting To Caribbean Islands
Most Caribbean cruises start from Florida (from Miami, Fort Lauderdale, Port Canaveral, Tampa).
However, some sail from a Caribbean port, which allows you to spend more time in the heart of the region.
Bridgetown (Barbados) is the most popular Caribbean departure point for UK cruise passengers, but there are also cruises from Montego Bay (Jamaica), Havana (Cuba), San Juan (Puerto Rico) and, next winter, from Castries (St Lucia).
Weather on Caribbean Cruises
Extreme weather in the Caribbean remains something of a rarity, the majority of Hurricanes developing out in the Atlantic pass the islands by, often leaving nothing more than a wake of heavy rain and moderate winds, in recent years the majority of islands in the Caribbean have been on the receiving end of little or no highly inclement weather.
The two extremes of the Caribbean islands would be Aruba and Dominica, with Aruba appearing as a dry, almost arid island with beautiful beaches almost at no risk at all from extreme weather.
And Dominica a lush island with dense think forest, often on the receiving end of over 300 inches of rain a year.
Most Caribbean islands fall somewhere is between these two make a good choice of island guaranteed.
Meet The Local Caribbean Culture & Events
The Caribbean is a desirable destination for rest and relaxation, but that should not stop you from taking the time to immerse yourself in its vibrant culture and enjoy the many events and festivals that celebrate the heritage and lifestyle of the region.
Here are just a few of them:
#1 Aruba Carnival Celebration
– The carnival spirit is and will always be alive in Aruba throughout January until mid-February.
Each day of the carnival will bring new traditions and parades, including plenty of children's parades for the whole family to enjoy.
#2 Barbados Jazz Festival
– The Barbados Jazz Festival will be in full swing.
Set in the idyllic setting of the Sunbury Plantation House and Farley Hill National Park, this is absolutely the country's flagship festival that is always full to the brim with music lovers.
#3 Barbados Holetown Festival
– During February, Holetown, Barbados holds its annual celebration of the arrival of the first settlers on 17 February 1962. Expect historical re-enactments, traditional dress and a variety of crafts and parades that will give you a taste of Barbadian history.
#4 Cricketfest, Antigua
– For cricket fanatics, Cricketfest combines sand, sun, sea, and cricket, as eight master teams from the USA, Canada and the Caribbean Islands come together and battle it out in Antigua.
#5 Montserrat's 2nd Volcano Marathon
– This is where runners from across the world will take on the 13.1-mile course that traverses the active Soufrière Hills Volcano, with Montserrat's key attractions providing a stunning backdrop to the race.
#6 Nassau Junkanoo, Bahamas
– For a colourful, one-of-a-kind New Year's Eve celebration, head to Nassau, Bahamas and join in the party.
Alternatively, take to the streets on Boxing Day, when the Junkanoo fun will also be taking over the town.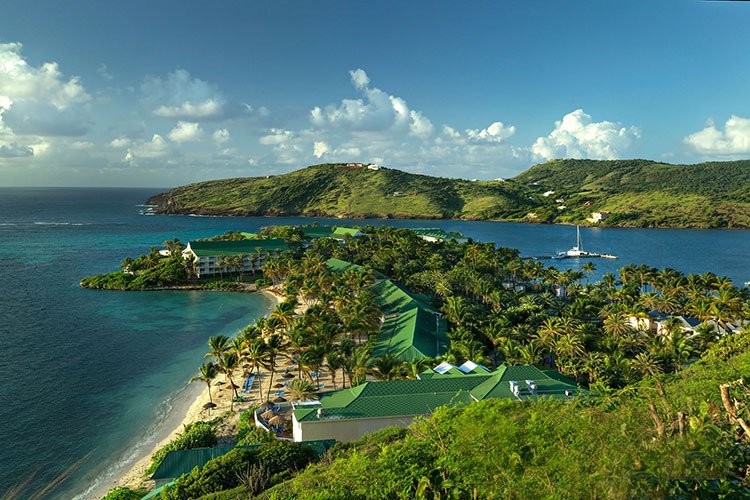 #7 Reading Week at St James's Club, Antigua
– For a more relaxing activity, St James's Club, Antigua is the place to be. It hosts a reading week during May. Meet fellow readers in a paradise setting to chat about your favorite books, or sip cocktails and listen to a bedtime story as the sun sets.
The Best Times Of The Year To Go For Caribbean Cruises
While it would be ideal if the best time to cruise to the Caribbean matched the summer months when most people take their vacations, that is not necessarily the case.
The best time for a Caribbean cruises depends on whether you are looking for the best weather or the best deals.
Winter offers the sunniest days, while late summer brings with it some excellent travel deals.
Best Weather On Caribbean Cruises
– If you want the best weather for traveling to the Caribbean, it is generally a safe bet to travel between December and April.
Though the weather in the Caribbean is generally good year-round, December through April has more sunny days and less rain on average than other times of the year.
The rainy season for the Caribbean runs from May to December; so ideally, it is best to avoid travel there during these months.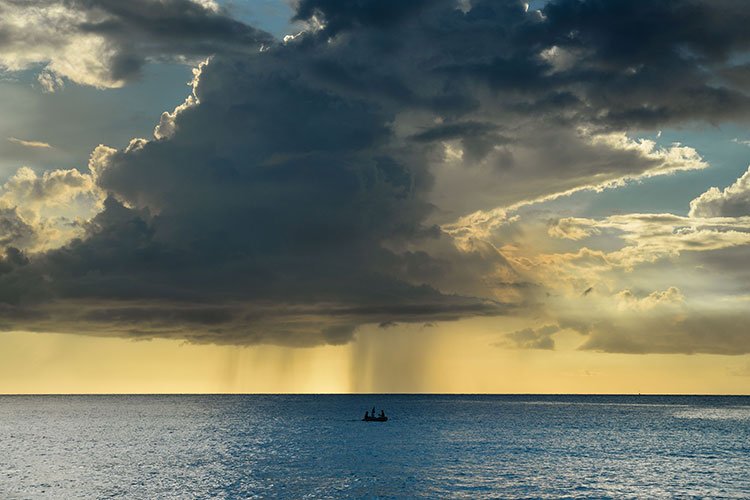 Holiday Season
– Many cruise lines decorate their ships for the Thanksgiving through New Years Day holiday season and have special onboard activities. If you have children, they usually have some time off school during this period.
They can cruise around Thanksgiving, Christmas or the New Year without missing schoolwork.
School breaks also coincide with Easter and other holidays such as Presidents' Day.
You will pay a premium to sail to the Caribbean during this period, but the trade off in special celebrations or minimal disruption to your children's school schedule may be worth it.
Hurricane Season
– A big consideration for when to travel to the Caribbean is the hurricane season, which runs from June 1 to November 30. Historically, though, most hurricanes in the Caribbean occur between August and October.
Any of the ports of call on a Caribbean cruise can be hit by a hurricane, and there is no way to predict one when booking cruise months in advance.
Even so, the chance of a hurricane happening at the exact time and location of a cruise is fairly slim, so do not shy away from booking one if your vacation time coincides with hurricane season.
Lowest Cost Season for Caribbean Cruises
– If cost is the major consideration for when you travel to the Caribbean, travel during the peak hurricane season in the late summer and fall.
This is when both cruise and airline tickets are less expensive.
Save money by booking for late August instead of late July; there will also be fewer crowds on the ships.
Passengers
– Couples who prefer not to encounter a lot of children on their Caribbean cruises should sail during the school year, Cruise Critic advises.
Cruises to the Caribbean usually last at least five to seven days.
There are more adult passengers during this period because some parents don't want to take their youngsters out of school for that long. Most of the kids on board will be age five or below, and the overall passenger count will be lower.
This means shorter waits for tendering into ports such as Grand Cayman and less crowded dining rooms and other.
Caribbean Cruises Special Deals
– In general, Carnival and Disney are considered inexpensive cruise lines, but this can change easily depending on specials and packages being offered.
Special cruise deals are available in early December as well as in January right after the holidays.
Good deals also pop up just before or just after the summer peak season. Find these specials either through a travel agent or on cruise deal websites.
Summer time means highest prices
– Most schools have a break between June and August. Some employers make employees take their vacation time at some point during the summer months.
Most cruise lines charge their highest prices for Caribbean cruises during the summer because of this, but it may be the best time for you if you are under work constraints or have school-age children.
When to Avoid Travel on Caribbean Islands
– If peace and quiet are tops on your travel list, three times of year should be avoided for traveling to the Caribbean; summer, spring break and Christmas.
These are times when ridership on the cruise ships is at their peak. These times may be anything but restful if the cruise ship is near capacity, particularly if it is packed with loud, partying teenagers on spring break.
During the summer and Christmas season, while the crowd may not be as rowdy, it is still a crowd, with often-packed decks and full events because these are peak travel times.
Best Reasons to Visit The Caribbean On Cruise
#1. Cricket
The current West Indies team may not be a patch on the great sides of the 1970s and '80s, but the Caribbean still moves to the rhythm of leather on willow.
Pop into pretty much any bar frequented by locals and you will quickly find yourself in a long, impassioned cricketing debate. The most attractive grounds at which to catch an inter-island game are Arnos Vale in St Vincent (it is on a cliff overlooking the sea) and the mountain-surrounded Beausejour Stadium in St Lucia.
#2. Caribbean Beaches
The Caribbean stereotypes of white-sand beaches and warm, calm seas are stereotypes for a very good reason – the islands are blessed with some of the finest beaches on Earth.
As a general rule, the flatter islands such as Barbados, Anguilla, Grand Cayman and Antigua have the sexiest stretches of sand. Beware, though, the most popular ones are not necessarily the best.
For example, in Anguilla, the hype is over squeaky white Shoal Bay East – but the one at Long Bay is arguably prettier and far less crowded.
#3. Turtles
Perhaps the most extraordinary beach, however, is Levera Beach in Grenada.
This is not because it is particularly beautiful; it is because of what happens there. Huge leatherback turtles, which are the size of coffee tables, struggle up the beach to lay eggs, with the hatchlings running into the sea a few months later.
The season runs from March to July, with April being the prime month for watching the big mammas coming in to lay.
#4. Shack Food
The Caribbean does have some gourmet destinations. Grand Case in St Martin and just about every restaurant on St Barthelemy, for example.
But it is the one-dish roadside and beachside shacks that give the true flavor of the region.
Expect amazing lechon (suckling pig) in Puerto Rico, spicy jerk chicken in Jamaica, Indian-influenced roti in Trinidad and Tobago, and rich goat curry in Montserrat.
#5. Fishing & Yachting
Cruising is big business in the Caribbean, though the model of giant ships stopping off for duty-free shopping sadly dominates.
For a more personal island-hopping experience, yacht charters are the way forward. The likes of Sunsail can fix up either bare-boat or crewed charters.
If the budget does not extend that far, the plush yachts tethered in the marinas make for excellent gawping and photo opportunities.
The prime hunting grounds for sail snappers are Antigua and the Virgin Islands.
#6. Visit Havana
"Get to Cuba before it changes" has been a cliché for quite some time. It has already changed massively.
But bigger changes are on the way, as the US government eases travel restrictions.
For now, Havana still has the crumbling colonial architecture, '50s cars and salsa clubs that give that atmospheric blend of struggle, independence, and eerie time warp.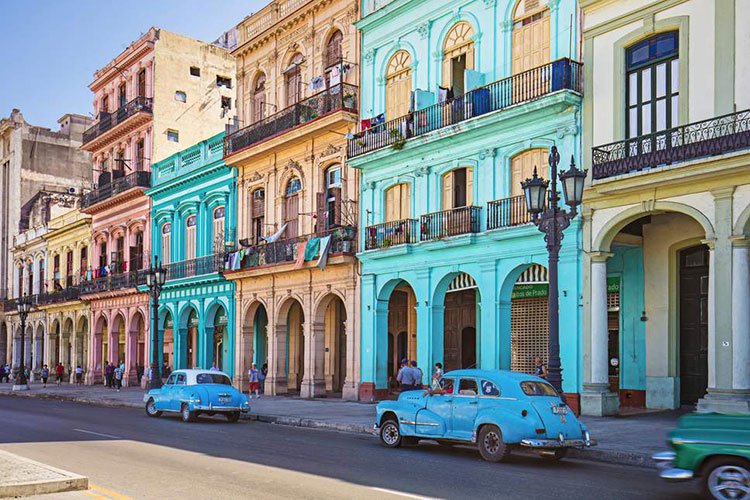 #7.  Old San Juan
The Caribbean's most appealing city, however, is arguably San Juan in Puerto Rico.
Well, the Old San Juan part anyway. It has the occasional dilapidated building, handsome Spanish colonial architecture by the bucket-load, a series of spectacular forts on the cliff-tops and a buzzing bar and restaurant scene.
It's the sort of place you wander into at 9 am for sightseeing, and out of at 2 am, barely able to see from all the dodgy rum a barman has been refilling your glass with.
#9. Volcano Adventures On Caribbean Cruises
The islands that are not flat tend to be volcanic and that makes for some rather spectacular hiking.
In Dominica, a particularly brutal day hike leads past steaming fumaroles to the extraordinary Boiling Lake, which is exactly what the name suggests.
Slogging up La Soufriere on Guadeloupe and the still-smoking Mont Pelee on Martinique are well worth the effort too, but the quirkiest option is Sulphur Springs in St Lucia, which merrily bills itself as the world's only drive-in volcano.
#10. Visit The Montserrat
For a reminder that the Caribbean's volcanoes do not always play nice, let a taxi driver take you up to Garibaldi Hill on Montserrat.
Following the eruptions of the Soufriere Hills volcano in 1995, most of the island is off-limits, as it is caked in ash, mud, and lava. The drive up to Garibaldi Hill takes you through the swirling wind-blown ash and dead trees of the Belham Valley.
The latter was once home to plush resorts and golf courses.
From the hilltop, you can see the roofs of buildings and church spires of Plymouth, which is the island's abandoned capital that was almost entirely buried.
#11. Cheaper Luxury Resorts
Summertime is off-season in the Caribbean, so you can snag a posh property for less.
No two rooms are alike at Anse Chastanet, a boutique resort in Saint Lucia.
The chic Casuarina pool suite, for example, is appointed with coralina stone tiles and handcrafted furniture. The suite also has its own private pool and overlooks the green-capped Pitons mountains.
In Jamaica, the adults-only Hyatt Zilara Rose Hall pampers its guests with heavenly touches such as beach butlers and swanky, swim-up rooms.
#12. Kid-Friendly
Please the whole family with a trip to an island waterpark.
Kids of all ages will love the Atlantis Paradise Island Resort in the Bahamas for its zany waterslides, river rides, and huge pools.
Tots can splash around in the Mayan water playground at Splashers, while adrenalin hounds can brave the plunging Leap of Faith, a waterslide with a nearly 20-meter, almost-vertical drop.
In Saint Lucia, stay at the Coconut Bay Beach Resort & Spa, home of the island's largest water park that features a lazy river and slides.
#13. Smaller Crowds
It is low season for many resorts, including Cuba's IBEROSTAR Playa Pilar Resort in Cayo Guillermo, about 30 minutes west of Cayo Coco, so you will have lots of space to explore.
Cayo Guillermo is a nature-rich isle off Cuba's northeast coast (accessed by a causeway) that boasts the world's second-largest coral reef and white-sand beaches. The all-inclusive resort offers water sports, including windsurfing and kayaking, without the crowds.
#14. Celebrate Crop Over in Barbados
Party with the locals in Barbados during Crop Over (June 24 to August 7), a six-week celebration of the end of the sugarcane harvest, a tradition dating back to the late 1700s.
The festival kicks off with an opening gala at which a festival king and queen are crowned.
Carnivals, concerts, parades, and art exhibitions fill the jam-packed Crop Over calendar. It all culminates with Grand Kadooment, a huge parade in Bridgetown featuring revelers dressed in elaborate costumes.
#15. Catch Turtle-Nesting Season
Summertime is sea turtle season on many Caribbean islands. In Barbados, the beaches along St. Lawrence Gap are a haven for the annual hawksbill turtle-nesting season that runs through October.
In Turks and Caicos, the barrier reef off Providenciales makes it a prime spot for turtle-watching opportunities, especially around Grace Bay Beach.
Snorkellers submerge offshore by kid-friendly Bight Reef in an underwater world of fish and sea turtles, while serious sea turtle fans opt for scuba diving excursions.
Ports Of Calls on The Caribbean Cruises
#1 Basseterre, St.Kitts
– A five-minute stroll from Port Zante brings passengers to the Kittitian capital's bustling town square, a throwback to bygone times.
Hop a taxi to the beach bars of Frigate Bay; see the Caribelle Batik fabric factory, or visit St. Kitts' magical sister island of Nevis, a 45-minute ferry ride away.
#2 Charlotte Amalie, St Thomas
– This is the Caribbean's most popular cruise port, with as many as six ships docked a time. Stunning Magens Bay beach; duty-free shopping galore; and the ease of visiting neighboring U.S. Virgin Islands (St. John, Water Island) are just three reasons why.
#3 Falmouth, Jamaica
– The island's newest port can accommodate the largest cruise ships in the world, and offers easy access to attractions westward in Montego Bay and eastward in Ocho Rios.
The 32-acre port complex, inspired by the town's Georgian architecture, features restaurants, and duty-free and local shopping.
#4 Gustavia, St Barth
– Proving that bigger is not necessarily better, this port is petite but perfect. Passengers on the smaller ships that dock here step immediately into the center of this French-Caribbean capital where stylish boutiques, charming waterfront restaurants, and idyllic white-sand beaches make every moment ashore magnifique.
#5 Ocho Rios, Jamaica
– This classic cruise port may not be one of the Caribbean's newest or fanciest but it is the gateway to some of Jamaica's must-see attractions, including Dunn's River Falls and Mystic Mountain.
#6 Nassau, Bahamas
– You cannot get much closer to the action than Prince George Wharf. It just steps to the shops and restaurants on the main drag, Bay Street; Junkanoo Beach is a quick cab ride away; and a 10-minute water taxi ride gets you to idyllic Paradise Island.
#7 San Juan, Puerto Rico
– Smack in the center of the city, this port is one of the Caribbean's busiest.
Disembark here and you are a stone's throw from the diverse dining, impressive shopping, and colorful architecture of one of the region's most vibrant capitals.
#8 Philipsburg, St Maarten
– If you are a shopper or a beach bum, then this is definitely your port. The terminal itself has lots of shopping opportunities to offer.
The Dutch-side sandy sweep at Great Bay is just a quick taxi ride away and French St Martin's capital, Marigot, with its clothing-optional beaches and open-air market, is easily accessible.
Packing Tips For Caribbean Cruises
Note that cruise cabins, albeit not all, are small. While a Caribbean cruise can be the trip of a lifetime, it can become a not so worthy vacation if you forget to pack the important of stuff.
The key to avoiding those pitfalls is packing smart.
The typical cruising wardrobe is predictable, but it is easy to lose sight of some key items that should be on your list.
Follow these six tips for packing for a Caribbean cruises, so you can focus on that umbrella drink.
#1 Bring Clothes in Your Carry-On
– This tip is especially important if you are flying to the embarkation point. Normal airline luggage delays are bad enough, but those problems are only compounded when you are boarding a ship.
If your luggage is temporarily lost, it will be passed along to the next port of call. In the meantime, you will want (and need) to have some clothes and essential supplies in your carry-on.
Here, you can think of sandals, shorts, swimsuits, and sunglasses, as well as any medications you need onboard.
#2 Always Pack Lightly
– The days of bringing trunks full of clothes onboard are long gone. People now live in an age where oversized bag charges on airplanes are a real thing, and many people have to fly to the cruise embarkation point.
Plus, you will have trouble wrestling an unwieldy wardrobe into the small dressers and closets in your cabin. Worried about squeezing in a ball gown or tux?
Cruising is a far less formal experience than it used to be, which means you can get away with bringing fewer clothes than you would expect. And you can use packing organizers to help keep your baggage even more compact.
#3 Find Your Level of Formal
– Some cruisers love to go all out with formal evening gowns and tuxes for dinner.
Others prefer to pack the bare minimum to meet the dress code: a collared shirt and nice slacks for men and a sundress for the ladies.
Check your cruise line's dress code before you pack (many have become pretty casual) then choose clothes that make you feel attractive and comfortable—whether that is a simple sundress or a daring cocktail dress.
Whatever you bring, it will look more polished if it is pressed, so keep it wrinkle-free in a packing folder or garment sleeve.
#4 Prepare for The Sunshine
– In the Caribbean, swimsuits, sunscreen, and flip flops are mandatory. You are, after all, setting sail for a tropical paradise.
Bring at least two swimsuits, so you can swap one out when the other is wet.
Add a few pairs of casual shorts, skirts, T-shirts, and swim cover-ups, and your outdoor wear is set.
Do not forget to take into account conditions on the ship; the air conditioning on cruises is notoriously cold. Pack a sweatshirt or sweater for indoor warmth.
#5 The Basics Are A Must
– Certain items every cruiser should pack because forgetting them will be either an expensive mistake or an irreparable error.
Cruise ships often lack alarm clocks, for instance, so consider bringing one (or use your phone).
A power strip is advisable, as it is a way for you to have a way to plug in all your electronics (cabins never have enough outlets).
Do not forget essentials like seasickness pills, earplugs, batteries for your camera, and sunscreen. Another super-useful item it is easy to forget: Compression Sacs, to protect your valuables at the beach and stash wet swimsuits and towels.
#6 Mix and Match
– You can get away with bringing fewer clothes if you plan a wardrobe that coordinates well with everything else.
This capsule wardrobe concept allows you to create many looks out of just a few key pieces of clothing.
Pick tops in complementary colors, and match them with coordinating bottoms.
Your fellow cruisers are not fashion critics; they are not going to judge you for wearing the same items on multiple days. You can use a packing folder o arrange outfits in a way that will be easy to access once you set sail.
Safety and Health Advice For Caribbean Cruises
Crime is a real issue on some Caribbean islands, and cruise-ship passengers can be seen as easy pickings.
Over the past few years, cruise holidaymakers have been subjected to armed attacks on popular islands such as Barbados and St Lucia.
Leave valuables on board the ship; if nervous, consider sticking to guided excursions and consult expert information specific to the islands you are visiting.