Things To Do On Bahamas Cruises
Book your Bahamas cruises now because are the place where you want to dive into adventure, and when it comes to new experiences, your goal is to jump in with both feet.
You can enjoy posing with porpoises in Dolphin Cay or plunging into pirate hideaways like Fort Fincastle.
There are also reef diving and flying high above waters in a parasail.
Grab hold of one-of-a-kind adventures in Nassau and Royal Caribbean's private island – CocoCay.
Come and seek your next adventure in The Bahamas.
Introducing the Bahamas cruises
You certainly heard and know the name. The same thing can be said with the laid-back attitude and where to find them. But for you to experience its wonders, you will just have to visit The Bahamas.
There is no doubt that you will truly appreciate this classic cruise destination.
On this 700-strong string of sun-splashed islands dotting the blue Atlantic, the living's easy. (And it's not bad on a Bahamas cruise either!)
The central port of Nassau is the bustling capital of the country — "bustling" is a relative term, of course — while Freeport is all chill, all the time.
And nothing is as delightfully desolate as Half Moon Cay and Princess Cays: pure private-destination paradise. Enjoy sailing, snorkeling, strolling pearly pink-sand beaches, and swimming through crystalline turquoise seas, among many epic adventures.
Make Christopher Columbus' first stop your destination on a Bahamas cruise.
What kind of Bahamas cruises exist ?
Overnights Bahamas Cruises
– There are cruise lines that offer two-nighters year-round, and this is from the West Palm Beach to Freeport and back. The Bahamas is its only destination. Every year, a handful of major cruise lines offer a few two-night cruises as well.
Short-hop Trips
– The three- to five-night varieties typically depart from Miami, Port Canaveral and Fort Lauderdale's Port Everglades. Carnival offers some alternative homeports, as well.
The short cruises usually visit some combination of Nassau, Freeport, Key West and/or the cruise line's private island.
Weeklong Bahamas Cruises
– Seven- and eight-night cruises leave from New York, Bayonne (Cape Liberty), Baltimore, Galveston and New Orleans and call on the Bahamas and Florida.
The Florida stops are usually Port Canaveral or Key West.
Not every Caribbean island has a cruise port, but the list is growing and cruise ships are stopping in more exotic locations.
Most cruise lines offer Western and Eastern Caribbean itineraries, so that's often the first choice you will need to make.
If you go with the big ships, you will typically see ports like San Juan and Grand Cayman; smaller ships will get you into places like Virgin Gorda, BVI, and Nevis.
Lines like Royal Caribbean and Disney Cruise Line offers stops at private islands.
The Best Time Of The Year To Visit Bahamas On Cruise
Given the never-ending number of children in year-round schools, as well as its continuous increase, it is safe to say that the summer months are still the most popular time for families who love the idea of visiting the Bahamas.
Of course, any period that encompasses a holiday is always a crunch time, so to speak.
That is because cruises at these times tend to sell out early.
If you are trying to avoid crowded ports and noisy ships, your best course of action is to cruise the Bahamas between mid-April and mid-May.
These are basically months just before hurricane season starts sometime in June, and from just after Labor Day until mid-November.
Historically speaking, both August and September are considered the most active months in terms of hurricane season.
If you are the type of who seek rest and quiet pleasure, then you should avoid March.
This is simply due to the fact that it is spring break time on most cruise ships in the Caribbean, and you will definitely find yourself rubbing elbows with rowdy youths.
Also, you must consider opting for a cruise on a more sophisticated line, the type that is likely to have lots of well-traveled adults.
Like any traveler, you want to save money when on a trip or vacation.
Fortunately, there is a way for you to do this when cruising The Bahamas.
If your goal is to save money and visit this paradise, then consider off-season times.
This could be anytime from late April to early May to September to early November.
During this period, inexpensive cruise to The Bahamas is more frequent.
A good reason behind this is that most people are back to work and school, as well as the fact that rates during these times are generally lower.
If money is an issue, be sure to avoid holiday cruises and high-season cruises from December through February; these cost more.
Another way to save money on a Bahamas cruises is to find out if there is a home port close enough to drive to rather than fly.
For example, go for a cruise that offers four-, five- and six-night Bahamas cruises year-round from Charleston, South Carolina.
Cruises that do this are usually offering longer Bahamas cruises from Baltimore, Maryland.
Why You Should Go On Bahamas Cruises?
It holds true that cruise holidays to The Bahamas are, in one way or another, extremely popular; hence, planning these tropical getaways can be tricky.
Truthfully, most times of the year are great for traveling to this archipelago, though some seasons are just arguably better than others.
This could be things like events and holidays, both of which can significantly affect available excursions, crowds, and prices.
Also, each season has its own advantages and drawbacks for travelers.
And believe it or not, there are vacationers who would prefer hurricane season to the bustling winter months.
#1 So, what is the best time of year to cruise to The Bahamas?
That largely depends on you.
If you are looking for a relaxing vacation where you can lounge on the beach undisturbed, you will want to cruise to The Bahamas at a different time of year than someone who wants to participate in parties and festivals.
Below, you will find the best times to take a cruise to The Bahamas based on your needs.
#2 A Relaxing Vacation
– If getting away from crowds is a priority for you on your trip, you may want to avoid visiting during the peak season.
The peak season takes place between mid-December and mid-April when the weather is optimal and the hurricanes are no longer a threat.
Fighting for space in the pools and on the beach will not be an issue if you visit during the off-season months between May and November, and you will also bypass waiting in lines at restaurants and tourist excursions.
Visiting during these months can help you experience the relaxed island life that you have always dreamed of, but there are a few drawbacks to consider.
To begin with, not all cruise excursions or island activities may be available during these months as excursion operators may take time off to prepare for the peak season.
Services also may not be as comprehensive, and many businesses take this time to undertake construction projects and renovations.
#3 Meant For Exciting Gatherings
– If crowds, festivals, and parties interest you the most, then cruising to The Bahamas during the peak season months of December, January, February, March, and April is your best move.
Spring Break brings young crowds to the various islands between mid-February and early April, and this is also when many of the wildest parties take place.
Christmas and New Year bring some of the best crowds for the celebration of the holidays, and the Junkanoo parades fill the streets adding to the festivities and joy.
Junkanoo, in particular, is a celebration of the history of the islands that features people in colorful masks, elaborate costumes, a variety of musicians, and dancers.
Hundreds of islanders dance through the streets to music made with drums, cowbells, trumpets, and whistles between Christmas and New Year's Day.
If you are not afraid of crowds or waiting in lines, cruising to The Bahamas during the peak tourist season will give you some of the best opportunities to celebrate, participate in top excursions, and receive premium services.
Getting The Best Prices On Bahamas Cruises
The highest costs, unsurprisingly, are when vacations happen in the peak season.
This is typical during the winter months. If you are looking for a bargain, then consider a Bahamas cruise during the off-season.
This can significantly slash prices on a lot of stuff, such as dining, excursions, and souvenirs, among many others.
Bargain hunters who are looking for a more relaxing experience prefer these periods to peak season months despite the few drawbacks, which include a narrower selection of excursions and the possibility of some rainy weather.
Of course, saving money is – and will always be – a necessity when it comes to trips for the whole family.
This is most especially the case when you are traveling on a strict budget.
This is where you want to book during the summer and fall, as these are the times when prices are lower.
Doing so can really help you plan a dream vacation at a fraction of the usual cost.
In particular, the cheapest months to be in The Bahamas are August, September, October, and November.
Islands that you should visit on Bahamas cruises
The Bahamas is known for its many islands, each of which offers a unique kind of thrill and fun to vacationers.
And if you want to go into detail, digest this: there are 700 islands that make up the archipelago, which extends 760 miles from the coast of Florida nearly all the way to Haiti.
It is given that the most of these islands are uninhabited, but it does not necessarily mean they are dangerous or cannot be visited.
If all you want is to visit the best islands The Bahamas has to offer, then you have an overwhelming number of destinations to choose from.
If you are also hoping to truly get away from it all, veer away from some of the most popular isles, with the Grand Bahama being an epitome.
Here is where you want to consider the others:
Andros Island
– Deemed as the largest of the Bahama islands, Andros the type that is less in terms of population.
It offers the chance to own a piece of your own island and this is possible without the high price tag.
Here, locals love to make waterproof straw baskets, batik, and other crafts, while visitors like you can be mesmerized by blue holes, excellent bonefishing, and diving.
The island is home to the world's oldest dive shop and the second largest coral reef in the Western hemisphere.
Even more so, it is covered with vast areas of wetlands that create channels perfect for bonefishing.
Most visitors come here to experience the "Bonefishing Capital of the World," which is usually done by staying at one of the island's plantation-style lodges.
These are usually situated between Deep and Middle Creek on the south end of the island, all of which offer a beachfront paradise with a picture-perfect white sand beach, swaying palms, fire pit, and great access to a flats skiff.
The tidal paths found on this part of Andros provide water pathways to access the famous west side while offering protection from the winds, and creating a fertile, bait-rich environment that bonefish prefer.
The Berry Islands
– Between Nassau and Florida's coast, these 30-odd islands – which comprise only about 77 sq. km (30 sq. miles) of land – attract devoted yachters and fishermen.
This series of islets, cays, and rows of barely submerged rocks has extremely limited tourist facilities and is geared mostly toward well-heeled anglers, many of whom hail from Florida.
Most of the full-time population (about 700 people) lives on Great Harbour Cay.
These islands are a lot classier and more charming than Bimini.
Bimini Island
– One of the smallest destinations in The Bahamas, Bimini is close enough to Miami (just 81km/50 miles) to be distinctly separate from the archipelago's other islands.
Bimini is actually a pair of islands with a total area of 23 sq. km (8 3/4 sq. miles); smaller North Bimini is better developed than South Bimini.
Luxurious yachts and fishing boats are always docked at both islands' marinas.
Throughout Bimini, there's a slightly run-down Florida-resort atmosphere mingled with some small-town charm.
Sportfishing here is among the best in the world.
Once the setting for Ernest Hemingway's Islands in the Stream, Bimini attracts big-game fishers for big-league fishing tournaments.
If you would like to follow in the footsteps of such famous anglers as Zane Grey and Howard Hughes, this is your island.
In addition, the scuba diving here ranks among the country's very best.
Cat Island
– Believe it or not, Cat Island is one of the least frequented islands and it is even deemed the most beautiful of all the Bahamas out-islands.
While it offers outstanding diving off its south shore, this remote island has hardly been touched by tourism. This alone makes it ideal for individuals who are seeking the ultimate in peace and unchartered territory.
Every inch is perfection, from the weather to the sand, and it even boasts an eight-mile stretch of pink sandy beach.
It also managed to retain its authentic island flavor, which is somewhat a drawback of some popular islands.
Cat Island offers ripsaw music and Obeah religious practices which are very much alive.
A clear lake called "Boiling Hole" is known to be the to a legendary sea monster due to tidal conditions that cause "mysterious" burps and bubbles, it is also an excellent place to watch for baby sharks, rays, and all sorts of birds that nest along the mangroves that surround it.
Moreover, the island is said to be packed with a number of historic landmarks, including churches, plantation ruins, and old buildings, while Griffin Bat Cave was infamous once for being a hideout for slaves.
Crooked Island
– The Remote and unspoiled Crooked Island has little in the way of tourist facilities, but it does boast gorgeous beaches, bat caves and flamingos, and also serves as a turtle nesting spot.
One of the four islands that form an atoll hugging the striking shallow waters of the Bight of Acklins, it hasn't much changed since Columbus sailed down the leeward side through the narrow Crooked Island Passage.
There are miles of untouched, white powdery sands, coral gardens, limestone caves and cliffs, remnants of slave and cotton plantations, ancient churches, fortifications and mangrove-lined waterways.
Eleuthera Island
– This long and slender island is the most historic of the Out Islands, with the first English settlers arriving back in 1648. Much of the architecture and way of life was influenced by these British Loyalists.
Here, expect to find a number of well-developed resorts, massive coral reefs that create breathtaking backdrops, and miles and miles of beautiful beach that can often be enjoyed all to yourself.
The Eleuthera Island also features many stretches of sand relatively deserted thanks to their secluded locales.
Although it is the fourth most populated island in The Bahamas, home to about 11,000, most of the people who live here either fish for bounty or farm the rolling acres of pineapple plantations.
The bakeries lure visitors in with their mouth-watering pineapple tarts from the island's signature crop – Henry Sands homemade bread even won him an invitation to Princess Di's wedding.
Grand Bahama Island
– The island's name derives from the Spanish term gran bajamar, which means "great shallows."
It simply refers to the shallow reefs and sandbars that, over the centuries, have destroyed everything from Spanish galleons to English clippers on these shores.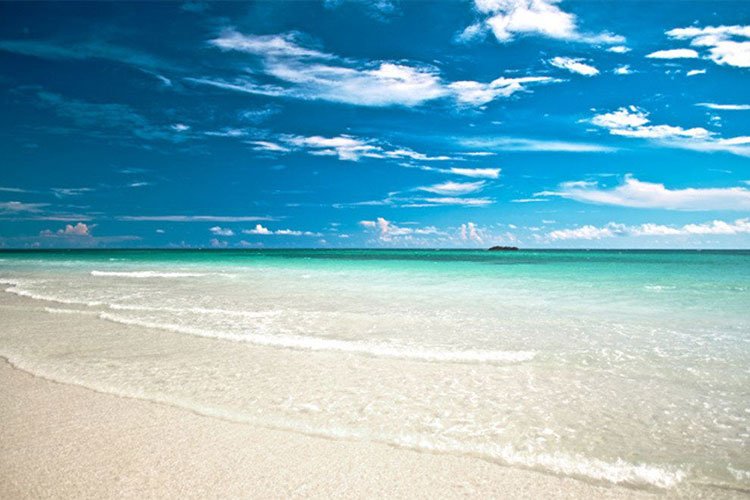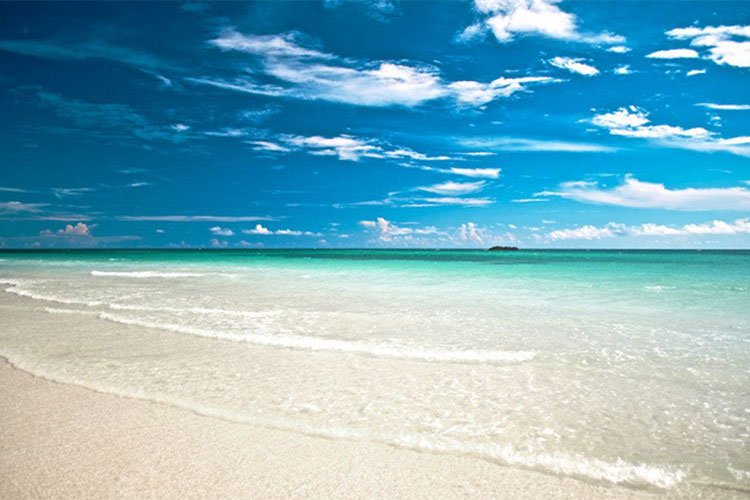 Thanks to the development schemes of U.S. financiers such as Howard Hughes, the Grand Bahama boasts a well-developed tourist infrastructure. Casinos, beaches, and restaurants are now plentiful.
Grand Bahama's Freeport/Lucaya resort area
– is another popular destination for American tourists, though it has a lot more tackiness than Paradise Island or Cable Beach.
The compensation for that is a lower price tag on just about everything.
Freeport/Lucaya offers plenty of opportunities for fine dining, entertainment, and gambling.
This island, especially popular with families, also offers the best hiking in The Bahamas and some of the finest sandy beaches.
Its golf courses attract players from all over the globe and host major tournaments several times a year.
You'll find some of the world's best diving here, as well as UNEXSO, the internationally famous diving school.
Harbour Island
– This one here is actually part of Eleuthera and is a chain of islands itself.
At first look, you would think that it is made specifically for romance, with the beaches on the three-mile-long isle filled with tiny foraminifera.
The latter are red-shelled creatures that give the sand its rosy hue.
Its hub, Dunmore Town, was once the capital of The Bahamas, and it still retains picturesque Georgian architecture, marked by pastel-hued buildings, white picket fences and bougainvillea-draped door frames.
The island is home to less than 2,000, and only a small number of tourists visit at any given time, providing a laid-back atmosphere that ensures a peaceful escape from the chaos of day-to-day life.
Long Island
– It is definitely a crime not to include the Long Island in this list.
It is an 80-mile-long island and is home to one of the oldest dive operations in The Bahamas.
It hosts multiple shallow and deep dive sites but is most well-known for Dean's Blue Hole.
In case you did not know, the latter is the deepest recorded blue hole in the archipelago at over 600 feet.
Friendly turtles and tiny seahorses come to the warm, saltwater pool for a break from the ocean currents, while the coral caves and sand banks on the side of the entrance harbor all types of tropical reef life, from colorful tropical fish to groupers and snappers.
The western shoreline of Long Island has soft, sandy beaches edged with rich green mangroves.
With the Atlantic to the east, the island is also a paradise for people who love fishing, sailing, and yachting just to name a few.
Paradise Island
– If high-rise hotels and glittering casinos are what you want, alongside some of the best beaches in The Bahamas, there is no better choice than Paradise Island.
It is directly off Nassau's coast and has the best food, entertainment, hotels, and terrific beaches and casinos to offer.
Its major drawbacks, however, is that it is somewhat expensive and often overcrowded.
With its colorful history but unremarkable architecture, Paradise Island remains one of the most intensely marketed pieces of real estate in the world.
The sands and shoals of the long, narrow island protect Nassau's wharves and piers, which rise across a narrow channel only 180m (591 ft.) away.
Owners of the 277-hectare (684-acre) island have included brokerage mogul Joseph Lynch (of Merrill Lynch) and Huntington Hartford (heir to the A&P supermarket fortune).
More recent investors have included Merv Griffin.
The island today is a carefully landscaped residential and commercial complex with good beaches, lots of glitters (some of it tasteful, some of it way too over-the-top), and many diversions.
The Abacos Island – Bahamas cruises
– This cluster of islands and islets is a mecca for yachters and other boaters who flock here year-round — particularly in July when the Regatta
Time in Abaco race is held at the Green Turtle Club. For centuries, residents of the Abacos have built boats, although tourism is now the main industry.
With the exception of Eleuthera's Harbour Island, you will find more New England charm here than anywhere else in The Bahamas.
Loyalists who left after the American Revolution settled here and built Cape Cod-style clapboard houses with white picket fences.
The best places to experience this old-fashioned charm are Green Turtle Cay and Elbow Cay, which are accessible from Marsh Harbour.
Marsh Harbour itself has an international airport and a shopping center, although its hotels aren't as good as those on Green Turtle Cay and Elbow Cay.
Many of the Abacos are undeveloped and uninhabited.
For the best of both worlds, visitors can stay on either Walker's, Green Turtle, or Treasure cays, and then charter a boat to tour the more remote areas.
The Exumas Island
– Just 56km (35 miles) southeast of Nassau, this 588km-long (365-mile) string of islands and cays – most of them uninhabited – is the great yachting hub of The Bahamas, rivaling (some say surpassing) the Abacos.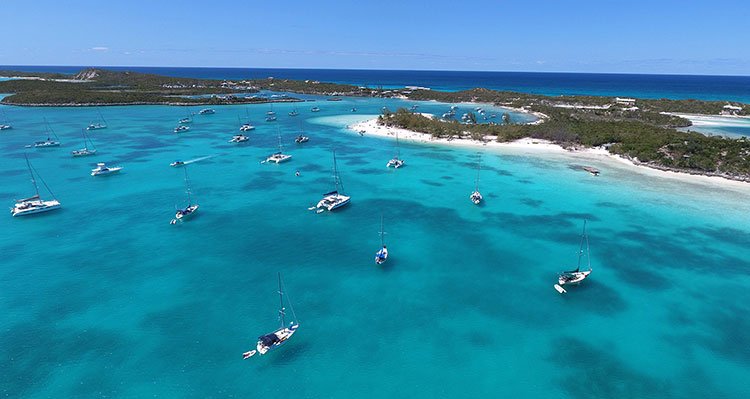 These waters, some of the country's prettiest, are also ideal for fishing. Many secluded beaches open onto tranquil cays. Portions of the James Bond thriller Thunderball were filmed at Staniel Cay. Daily flights serve the Exumas from Nassau, Miami, Fort Lauderdale, and Atlanta.
The locals here are very hospitable, and if you stay here, you will feel like you practically have the archipelago to yourself.
Great Exuma Island is home to a few good inns, mainly in George Town, the commercial center of the Exumas.
Every April, George Town hosts the inter-island Family Island Regatta, a major yachting event.
Elsewhere on the island, a big new Four Seasons resort and golf course officially opened in late 2004 at Emerald Bay, bringing a new type of crowd here.
The Four Seasons offers a deep-water marina with 125 state-of-the-art slips for ocean-going yachts, along with a dock master.
Exuma Cays Land and Sea Park, protected by The Bahamas National Trust, comprises much of the coastline.
The park is accessible only by boat and is one of the major natural wonders and sightseeing destinations of The Bahamas, with abundant undersea life, reefs, blue holes, and shipwrecks.
Top 9 Reasons To Visit The Bahamas On Cruises
It really is true that it is not difficult to come up with reasons when it comes to visiting the ever-wonderful Caribbean nation of The Bahamas.
When people think of this paradise, crystal blue beaches and white sand always come to mind. But hey, those are just a few of the island's many attractions.
The archipelago's geographical location, its 700 unique islands, the weather, and its cultural and entertainment activities make it the perfect place for your next vacation.
Here are some of the many reasons to visit The Bahamas and why it should be next on your travel itinerary.
#1. Delicious and Mouthwatering Bahamian food
Bahamian food is an eclectic combination of southern American (think cornbread, peas, and rice) and Caribbean (think spicy seafood) styles.
Conch, a plentiful shellfish, is the island's national food, and many Bahamians have mastered making a variety of conch dishes such as conch soup, conch fritters, and conch pizza.
All inhabited islands of the Bahamas have an impressive choice of upscale restaurants, eateries, and cafés to choose from.
#2. Enjoying The Sun Like No Other
There is no bad time to visit The Bahamas. The weather is great year-round and remains relatively consistent, with temperatures rarely dipping below 60 degrees, even in winter time.
Even though there is a rainy season from May to June, the rains are rarely continuous. The island still remains fairly warm, making it the perfect place to soak up some sun and relax.
#3. The Junkanoo Carnival
The Bahamas Junkanoo Carnival is the hub of Bahamian culture and one of the most anticipated annual events on the island.
Every year, locals and tourists alike gather from Grand Bahama to Nassau to participate in cultural events, enjoy nonstop live entertainment from the best musicians in the Bahamas, and party the days away.
The Junkanoo Carnival begins every year at the end of April with parties and gatherings in Grand Bahama and ends at the beginning of May with the final event called the Road Fever. Over 50,000 people attend the latter in Nassau every year.
#4. Snorkeling and Scuba Diving
With crystal-clear water and a variety of marine life, reefs, and shipwrecks, the Bahamas is one of the world's premier destinations for scuba diving and snorkeling.
All the scuba companies are approved and monitored by the Bahamas Diving Association, so you are guaranteed to deal with a safe and secure firm while exploring Bahamian waters.
#5. The Rich History
The Bahamas has a rich history and a number of interesting sights for tourists. The Columbus Monument, Adderly Plantation, Long Island Museum and Dean's Blue Hole are just a few of the monuments that are worth seeing when you're in the Bahamas.
There is always an opportunity to learn something new about the island's fascinating history.
#6.The Swimming Pigs
The famous swimming pigs are a growing, international sensation in Exuma, Bahamas.
The world's rich and famous have flocked to Bahamian shores to experience one of the most unusual and fascinating animal activities up close and you can swim with them, too.
#7. Island-Hopping
The Bahamas is an archipelago consisting of about 700 islands. Of that 700, 30 of those islands are inhabited, which makes the Bahamas the perfect place to go island-hopping.
Nassau is the capital of the Bahamas and is the popular destination for those traveling to the island.
From Nassau, you can easily travel to the small islands, each of which has its own unique features. Boat or ferry is the usual means of transportation, as they are inexpensive, but there are also flights from Nassau to the smaller islands.
#8. Food Festivals
With such a fascinating cuisine, food festivals in the Bahamas are must-attend events.
Each major food festival during the year is an opportunity is to sit back and enjoy local entertainment as well as the most amazing dishes that the Bahamas has to offer.
Two of the most popular food festivals are the All Andros Crab Fest held in June and the Eleuthera Pineapple Festival held at the end of May.
#9. Luxurious Hotels
The Bahamas is famously known for its beautiful, luxurious beach hotels.
The Beach Tower at Atlantis, Paradise Island, Grand Hyatt and Breezes Resort are a few of the most popular hotels.
The hotels in the Bahamas have mastered the art of providing world-class service while still making their guests feel at home.
Great facilities, hotel activities and the standard of accommodation are other reasons why Bahamian hotels are top-notch.