Bermuda Cruises – Excursions, Beaches & Things To Do
A Bermuda Cruises are nothing short of a calling. From teeming wildlife to tropical cuisine to exotic luxury, there is just so much more to love about it.
Let the soothing summer winds gently caress you while the sun shines on your glistening body on the beaches.
Try delicious tropical fare like the loquat, and kick back with a cool smoothie made with fresh tropical fruit.
And oh, do not forget about the history of top-notch golf: hit the pristine links and show your prowess with a laidback and relaxing 18-holes.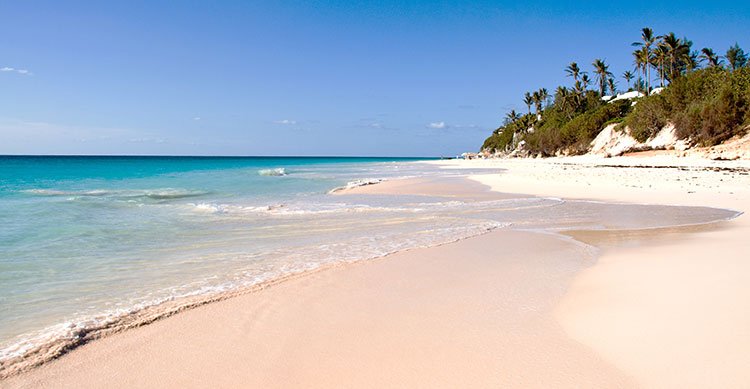 Whether you plan on scuba diving under the clear waters or sipping a cocktail on the beach, a Bermuda cruise is the perfect vacation for you.
Quick Fun Facts About Bermuda Cruises
Did you know that Bermuda is not technically part of the Caribbean?
The tropical oasis boasts the stunning beaches and warm climate we associate with Caribbean islands, but in fact, it is considered part of North America.
Bermuda is a British Overseas Territory located in the North Atlantic Ocean, about 665 miles off the coast of North Carolina.
It is made up of 138 islands, though some are quite small and uninhabited.
Bermuda's capital city, Hamilton, is a charming cruise port often called on during Transatlantic and coastal North American cruises.
But what really makes Bermuda so special?
It safe to say that Mark Twain put it best, particularly when he said: "You go to heaven if you want—I'd rather stay here in Bermuda."
Bermuda is perhaps most famous for the Bermuda Triangle. Miami, Bermuda, and Puerto Rico each serve as one point of this mysterious, fabled region where ships and airplanes have disappeared.
Though the folklore of the Bermuda Triangle is intriguing, it is not based on scientific evidence. In fact, tragedies are no more frequent in the "Bermuda Triangle" than in other high traffic ocean regions.
Things to Do on a Bermuda Cruises
This is where you want to make sure that you have every available cruise excursion when planning your cruise.
These options will not only enhance your Bermuda cruises vacation, but they will also allow you to really explore Bermuda.
That may mean shipwreck snorkeling in the Bermuda Triangle, having a Dolphin Experience or Atlantic Half Day Reef Fishing in the clear waters.
No need to worry, though: if you are looking for a party, you can try a nice Island Beach Party and let loose with other cruisers.
See more of the following below:
Daily Activities On Bermuda Cruises
#1 Atlantic Half Day Reef Fishing
– Jump onto the Jolly Roger and get ready for a fishing ride that packs some entertainment as well.
You will sail through the crystal clear Bermudan waters in search of the perfect spot, and then fish for snappers, triggerfish, jacks and other interesting fish species for a day of fishing fun!
#2 Bermuda Triangle Shipwreck Snorkel
– For a snorkeling expedition that demands a confident swimmer and an adventurous nature, choose this Bermuda excursion.
You will get some history on the destination and some of the shipwrecks, and then are provided with equipment to dive under the sea.
There you can explore two different sites, one of which is a shipwreck. Who knows what you will find under the water!
#3 Bike the Rail Trail
– Just because you arrived in Bermuda by cruise ship does not mean you cannot indulge your love of cycling.
Ride a 21-speed mountain bike on a gently graded eight-mile railway trail, stopping at various points of interest along the way.
#4 Dolphin Experience
– You may never have the chance to try this exciting excursion again. Play with the jolly and exciting dolphins and interact with them on a personal level. Then you will put a mask on and join them in the water for a wild and one-of-a-kind experience.
This is your ultimate ocean and wildlife experience. Remember to Interact and watch them swim over, under and all around you. This could be a once-in-a-lifetime opportunity to learn about these amazing marine mammals.
#5 Explore the Crystal Caves
– Travel 120 feet below the surface of the ocean into a magical cave filled with stalactite and stalagmite formations. Combine a trip to the caves with the aquarium or with a ride in a glass-bottom boat.
#6 Fish on the Reefs on Bermuda Cruises
– If you love to fish, it is about time for you to take the opportunity to partake in some reef fishing in the waters around Bermuda. The knowledgeable captain and crew will show you where to find the best fishing spots.
Try your luck at catching snapper, triggerfish, and porgies. Do not forget to snap a picture of your fish because this excursion is a catch and release only.
#7 Island Beach Party
– For a night full of rum swizzle and family fun, choose this party-focused excursion. Beachside music will highlight this incredible show and party, featuring dancers, performers and tropical delights.
You'll even catch a Fire Limbo show and maybe join in the contest if you dare!
#8 Kayak the Crystal-Clear Waters
– Learn about Bermuda while kayaking around an eco-reserve in the Daniels Head area.
Your guide will answer all your questions about the unique plants, birds and marine life you see around you.
#9 Sail the Seas
– Having the ability to choose your favorite type of boat is already a guaranteed win.
Enjoy easy-going excursions that show you the highlights of Bermuda from the water, or participate in more active trips that combine sailing with swimming, snorkelling, and other water activities.
#10 Spend a Day at the Beach
– Even though walking around and exploring the island is fun, so is dedicating your entire day to a beach excursion.
Jump on the Beach Bus and head over to the world-famous Horseshoe Bay Beach, where you can kick back, soak up the sun and splash around in the sea. Then just grab your return ride back to the ship. No sweat!
#11 Tour the Island
– There are so many things to see when you travel to Bermuda and only so much time, so make the most of your day trip by taking a guided tour of the island's highlights.
Look for the best option that takes you through the entire length of the main island, passing Gibbs Hill Lighthouse and the official residence of the Premier of Bermuda.
You then get to spend time in St. George's, a historic old village and World Heritage Site with winding cobblestone streets.
Evening Activities on Bermuda Cruises
Your evening adventure is just as fun and exciting as your morning. Continue your trip as the sun goes down if your itinerary includes an overnight stay.
For Adults Only
If you are not cruising with your kids, have some adult fun.
Take a sunset party cruise and dance under the neon lights, or try a rum tasting cruise where you can get the scoop on — and samples of — Bermuda's signature rum drinks and rum cake.
The Perfect Evening Family Fun – Get a different view of the ocean flow on an evening glass-bottom boat tour. Underwater spotlights illuminate the undersea world, showing you creatures you will not see during the day.
Or just enjoy a relaxing evening cruise where you can admire the beautiful coastline as you watch the sunset.
As you can see, there is so much to do when you cruise to Bermuda on your vacation that you might have difficulty choosing. Do not worry, as whatever shore excursion piques your fancy is sure to provide hours of fun and plenty of happy memories.
Money In Bermuda
Just like with any future trips you will make, it is advantageous to know a thing or two about a destination's currency or money. As with the case of Bermuda, its currency is pegged through gold to the U.S. dollar on an equal basis.
Simply put, BD$1 equals US$1. U.S. currency.
Fortunately, it is generally accepted in different business entities, such as hotels, restaurants, and shops.
Currency from the United Kingdom, as well as other foreign countries, is usually not accepted, though it can still be easily exchanged for Bermuda dollars at banks and hotels.
Best Times Of The Year For Bermuda Cruises
The best time to visit Bermuda is either March or April.
These are months when the temperate weather becomes pleasant for individuals who love to go beach bathing. And mind you, this is possible even if it is not quite warm enough for swimming yet.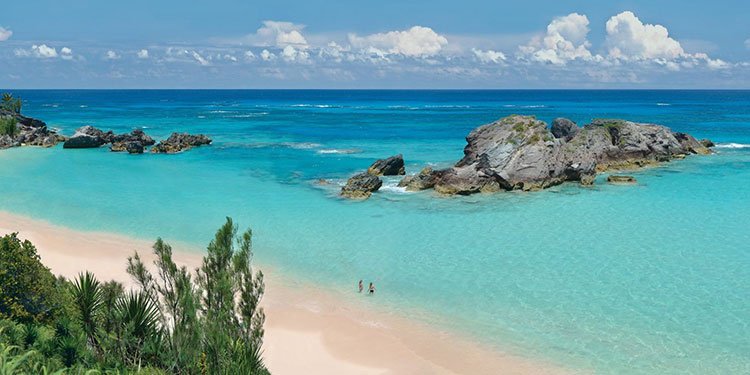 More importantly, prices during these months are not as high as they are during the busiest season, which runs from May to October.
If you are more interested in golfing or some other sports activities, make sure you plan your trip for the wintertime.
This is because the latter opens you up with the opportunity to obtain the greatest discount at the hotels, plus the islands are not nearly as crowded.
Bermuda cruises sail from April through mid-November, mostly during Bermuda's high or "beach" season.
Most people travel during the summer months (June through August), making those voyages pricier, but you will find deals on spring and fall departures (April through early June and September through November).
Bermuda has temperate weather year-round and is less affected by hurricanes than its Caribbean neighbors.
If it is too chilly for the beach in the shoulder season, you can always try out the island's many golf courses and spas.
October tends to be the rainiest month. Bermuda's big weather caveat: Hurricane season traditionally affects the island at least once a year between late August and October.
May is your best bet for shoulder season travel.
Best Bermuda Cruises Shore Excursions
Much like the cruise industry, Bermuda has long been known as a vacation destination for the "newly-wed and nearly dead."
But of late, the islands have been attracting younger and more active travelers than ever before.
With some shorter itineraries out of drive-to homeports including Baltimore, Cape Liberty/Bayonne, and Boston, it has become a more viable option for a wider demographic.
This is because the often prohibitive cost of airfare can be factored out of the equation for northeasterners.
Add to that the fact the British island chain has become a bit less stringent with its oft-fussy mindset and relaxed some of its infamous restrictions having to do with the number and size of ships in port, and you might just find yourself booked on a Bermuda cruise and hunting for the best in-port diversions sooner than you thought.
Bermuda has undergone a revolution in ship-sponsored excursion offerings – the best of which highlight the archipelago's fabulous pink sand beaches, an unmatched surplus of golf courses, stunning natural history, and distinctive culture.
Whether you have the luxury of three days or just one, check out the following outings for your next Bermuda cruises.
#1 Bermuda Triangle Evening Cruise
– For three centuries, Bermuda's treacherous reefs have doomed schooners, steamers, luxury liners, and frigates.
Because of the relative shallowness of the reefs, many of these shipwrecks can be enjoyed via glass-bottom boat.
Among the more popular wrecks is the Constellation, a four-masted schooner that sank in 1943 and provided inspiration for Peter Benchley's novel, "The Deep."
Other favorites: the French frigate L'Herminie that sunk in 1838 with 25 cannons still visible, and the iron-hull English bark North Carolina that hit the reef on New Year's Day, 1879.
The Bermuda Triangle Evening Cruise is perfect for Families and anyone looking for a low-key way to wind down for the evening.
Why It Is A Must: The ghostly shipwrecks seen along the Bermuda Triangle Evening Cruise are not only fascinating, but they also attract spectacular marine life, and this tour offers an opportunity to see it all from an underwater perspective without having to exert a lot of energy after a long day of touring.
Parrotfish, huge hogfish, octopus and speckled eels are just some of the colorful creatures that inhabit the wrecks.
Of course, going out to this supposedly haunted site after dark ups the creepiness factor.
#2 Bermuda Aquarium and Crystal Caves Tours
– From delicate sea horses to neon pink flamingoes, the Bermuda Aquarium is a good introduction to the amazing native marine life and birds you will be seeing during your visit.
Tiny Bermuda enjoys one of the world's highest concentrations of limestone caves between 110 and 200.
The most famous is Crystal Cave, which was discovered a century ago when two boys went chasing a cricket ball.
Descend 120 feet below sea level where thousands of stalactites and stalagmites surround a 55-foot deep lake. It is perfect for families, geology buffs, and spelunkers. Good walking shoes are a must for the subterranean descent and return.
Why It Is A Must: Beneath subtropical Bermuda lies an underground network of caves dating to the Ice Age.
Exquisite amber-colored stalactites hang like icicles and stalagmites inch slowly upward around the stunning crystal clear lake.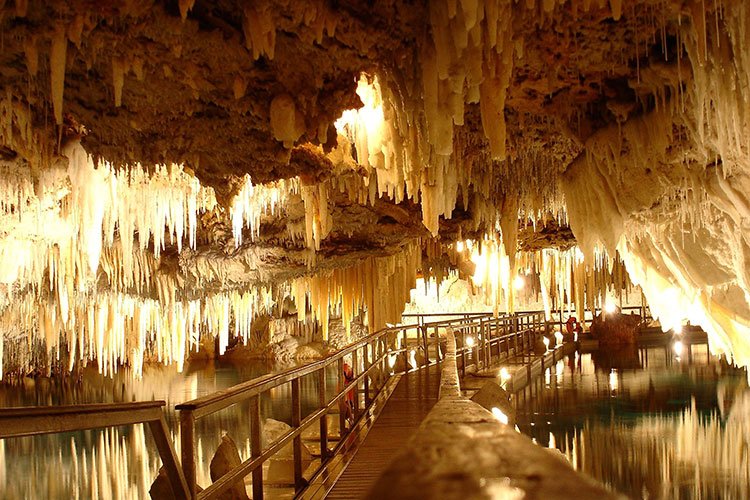 After visiting the caves, you will have time to explore the shops and eateries of Hamilton before returning to your ship via public ferry.
#3 Night Fishing Tour On Bermuda Cruises
– This is where you can experience Bermuda's barrier reef at night during an after-hours fishing adventure aboard the Jolly Roger, a 56-foot party boat.
This catch-and-release operation will give you a chance see and fish for nocturnal species that are not visible during daylight hours, including triggerfish, snappers, and jacks.
You should have no problem getting the hang of it with the help of your knowledgeable captain and crew.
Why It Is A Must: It is not often that cruisers get to experience the ports they visit at night, but because most ships remain docked in Bermuda for two to three days.
You will have the opportunity to see a different side of the islands – a nightlife that does not just include dancing and partying but allows you to get up close and personal with sea life that you would not otherwise be able to experience.
#4 Port Royal Golf Course
– Meant to golf enthusiasts, this golf-obsessed island boasts the most courses per square mile in the entire world, but most are private.
One notable exception is the Port Royal Golf Course, designed by Robert Trent Jones and owned and operated by the Bermudan government (along with St. George's and Ocean View).
Located in Southampton Parish along the ocean, Port Royal has been played by luminaries from Babe Ruth to Jack Nicklaus, a regular.
Why It Is A Must: With its challenging layout, breathtaking views and the Atlantic Ocean as the ultimate water hazard, Port Royal – which underwent a $14.5 million makeover in 2009 – is considered one of the world's great public courses.
The 16th hole, chiseled into the side of a cliff with dizzying ocean views, is among the most photographed golf holes.
Do not forget to bring extra golf balls (darn water hazards) and wear your Bermuda shorts and soft spikes.
#5 Railway Trail Bike & Beach Tour
– Before cars were allowed on Bermuda in the late 1940's, a train dubbed "Rattle and Shake" served the island.
Though the train was dismantled after cars were allowed, the rail line has been converted into a scenic 21-mile trail from St. George's in the east to Somerset in the west.
A tour will take you on a portion of the trail with a beach break at the end.
In addition to viewing the spectacular seascapes and lush vegetation along the way, cyclists with extra time can walk over to the historic Fort Scaur or visit the 17th-century Mott Family estate, both of which are easily accessed from the trail.
This is the type that will capture the interest of active travelers who enjoy hiking, biking and swimming, and families with older children and teens.
Why It Is A Must: The historic railway trail gets you off the beaten path and lets you explore some of the less-touristed areas of the islands.
It is a great choice for birders who can see flamingos and herons at Spittal Pond and warblers at Gilbert Nature Reserve.
You will even get to cool off with a swim after your ride.
#6 Slip Away to Harbour Nights
– Being docked in touristy King's Wharf can make it difficult to get a feel for true Bermudian culture, but if you happen to be overnighting on a Wednesday – which you will on most weeklong itineraries – you can head into Hamilton where Front Street shuts down to vehicular traffic and opens up for a high-energy street festival.
Shops with storefronts are typically open late during the festival, but you will find the real treasures at the numerous booths selling crafts and traditional island foods.
Ships' tours will provide boat transport and include a drink during the ride; once in Hamilton, you have free time to explore Front Street on your own.
So, who should go?
Well, these should be families with children of all ages, seniors and anyone looking to interact with native Bermudans.
Why It Is A Must: There is no better way to experience a culture than to hit the streets for seasonal festivals and shop the local markets, and Harbour Nights is no exception.
It is geared toward tourists – as are most events in Bermuda – but it is still the best family-friendly way to interact with the locals. Of course, any time there's music, great food and lots of people in one place, fun is sure to abound.
#7 Wild West Clear Kayak Tour
– Paddling is a great way to enjoy Bermuda's outdoor playground, and glass-bottom kayaks make the views even better.
Along with a buddy, you glide through warm, turquoise waters, passing secluded beaches, sheltered coves and bays, uninhabited islands and dramatic rock formations on this fully guided and narrated tour.
All the while, you'll get to spy on the coral, turtles and other mesmerizing sea life below you.
Suitable for all levels, from first-timers to expert paddlers, the excursion ends with a refreshing swim.
Why It Is A Must: Discover Bermuda's extraordinary marine life without getting wet.
A simple glance down at your kayak's glass panel reveals a rainbow parrotfish munching on brain coral or a green sea turtle gliding through the water.
Plus, you will have a great view of coastline animals including Bermuda longtails, egrets, and various crustaceans.
Best Bermuda Beaches To Check Out While You On Bermuda Cruises
The island of Bermuda is famous for featuring more than 34 beaches.
So, cruise passengers who seek sun and sand during their visits are definitely spoiled for choice.
Whether you want the best-snorkeling spots, a secluded place to take your family, a bit of adventure or somewhere close to the port, these Bermuda beaches got you covered.
Many cruise ships stay several days in Bermuda, which means you have even more time to bask in the sun and take advantage of the island's azure and turquoise waters.
#1 Horseshoe Bay
– If you can see only one beach in your time on the island, or if it is your first time going to Bermuda, make Horseshoe Bay in Southampton Parish your primary destination. Approximately a 35-minute ride on the Number 7 bus or shuttle from King's Wharf,
Horseshoe is revered for its curved-moon shape expanse of pink sand, calm currents, and warm breezes in the summertime.
Full amenities (such as umbrellas and equipment rental) are available, and a lifeguard is on duty during the summer months, making this a safe bet for families.
Take the shuttle service known as "To the Top" if you do not want to walk up the steep hill back to the main road of the bus route.
#2 Somerset Long Bay Beaches
–This stretch along the South Shore promises some of the most pristine beachfront in the world. It is also one of the closest public beaches to the cruise ports near the Royal Naval Dockyard.
If you want to add a nature walk and bird watching to your tanning session, check out the Somerset Long Bay Nature Reserve (an ideal activity for the family).
Somerset gives you the same salmon-colored sand found at Horseshoe Bay Beach but with fewer crowds, and Somerset is an ideal place to watch the sunset if you stay overnight on the island.
Those who are more adventurous will be able to catch waves and wind during a kite-surfing session, which is popular on this beach.
Changing rooms and restrooms are available but snack bars are not, so make sure to pack a picnic for the day.
Tobacco Bay Beaches
– One of Bermuda's most popular beaches (and best beaches for snorkeling), Tobacco Bay was given its name because tobacco was dried on the beach in earlier centuries.
Jagged limestone rocks separate the ocean from the bay, which results in shallow waters ideal for swimming and snorkeling.
Coral reefs serve as a home for a variety of marine life ranging from grouper to parrotfish.
After snorkeling, lounge on the beach with rental chairs and beach toys. You can find food vendors nearby.
If you want to round out your beach experience, Fort St. Catherine provides you with an overview of Bermuda's history as well as ideal Instagram moments with gorgeous pictures of the Atlantic Ocean.
Blackbeard Beach House is one of the best places to watch the sunset with a Dark 'n'Stormy cocktail in hand. On your way back to the port, check out the Unfinished Church, arguably one of the most beautiful architectural sites on the island.
Best Bermuda Beaches for Snorkeling
#1 Elbow Beach
– This one here is affiliated with Elbow Beach Hotel, one of the islands oldest hotels and is the beach closest to Hamilton.
Graced with a mile of pastel pink sand, the beach is notable for the snorkel over to the shipwreck of the Pollockshields.
This 323-foot cargo steamer, which was used as a German naval supply ship in World War I, was trapped in a storm and crashed into the shore reef in front of the hotel in 1915.
You can book a tour of the wreck with operators — such as Blue Water Divers — who will lead you via an underwater scooter to the ruins of the ship hull, propeller, boilers, rudder and hundreds of artillery shells scattered on the seafloor.
Depths range from 15 and 30 feet. Adventurous travelers also have the option of booking an escorted snorkel and kayak adventure.
#2 Church Bay Beaches
– One of the best-known snorkeling spots on the island because of the reef's proximity to shore.
The waters there are deeper than at other popular beaches, so be prepared.
In an almost-hidden cove just off South Shore Road, the scene is set to discover an abundance of marine life among coral cliffs and coves but beware of jellyfish that lurk in colder months.
Bring your water shoes to avoid getting cut on rocks in and around the beach. In the summer months, you can rent snorkeling gear.
Top Family-Friendly Bermuda Beaches
#1 Jobson's Cove Beach
– One of the most photographed and well-known spots on the island, Jobson's Cove is a short walk from Warwick Long Bay, and you will find more exclusivity at Jobson's.
Play hide and seek or search for shady shelter in one of the coves under the jagged limestone rock formations.
Climb up the natural steps of the rocks for your postcard snapshot. Bring your own snorkeling gear to float among the parrotfish in crystal clear waters.
There are no facilities on-site, so make sure you take advantage of the changing rooms and bathrooms at Warwick Long Bay and bring your own beach gear and snacks for your visit.
#2 Shelly Bay Beach
– A low-key beach experience for those who want to get away from the bustle of Horseshoe Bay, this shallow beach has gentle waves, allowing families with toddlers to swim with minimal stress from currents or surf.
Also notable: The beach, located between Hamilton and St. George, has a number of trees that provide shade.
A playground with swings, slides and climbing frames provide alternative activities for youngsters, and you'll probably see cricket and soccer teams practicing on the weekends.
A beach operator offering rentals and food concessions is on its way, but it is best to bring your own supplies.
However, a grocery store and ATM is available a half mile north of the beach.
You should remove jewelry before venturing into the water at Shelly Bay, as barracudas, which are attracted to all things shiny, have been spotted there.
#3 Warwick Long Bay Beaches
– This gem is just over a mile from popular Horseshoe Bay, South Shore Park is not the most secluded beach on the island, but it is a good option if you are looking for something quieter.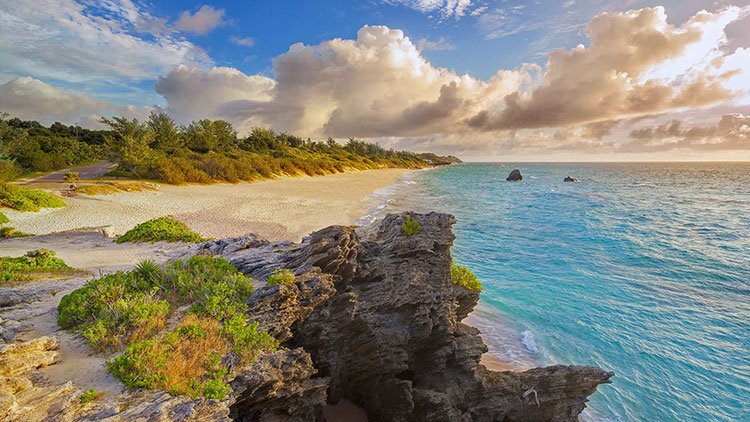 Seek your bliss as you touch your toes on the soft pink sands or discover the hidden alcoves among the dunes and bluffs.
Climb one of the rocks for a better view of the blue waters. Bring a favorite book for an ideal way to spend the afternoon on the beach. Rentals for snorkel equipment, chairs and umbrellas are available as well as a snack stand in the summer months.
Weather in Bermuda
November-February
– Temperatures rarely dip below 60 degrees Fahrenheit, but that means it is still too cold for swimming at the beach. However, if golf is more your sport, you will get a mild discount for traveling at this time.
You should be able to find affordable rooms (somewhere around $200 or less for a night, which is practically a steal for Bermuda.
Noteworthy Events To Visit On Bermuda Cruises:
Bermuda Marathon Weekend (January)
Bermuda Regional Bridge Tournament (January)
March-April – These two months of spring are like a gift to travelers on a budget. You can visit Bermuda, appreciate its charms and save some cash, too. Temperatures climb out of the high 60s to the low 70s (the ocean still might be a little cool).
These two months are also some of the most festive. Easter is an important holiday where islanders take to Horseshoe Bay on that Sunday with beautiful handmade kites — definitely bring your camera.
Easter (March-April)
Bermuda Open Volleyball Tournament (April)
May-October – This is Bermuda's beach season when temperatures range from the high 60s to the mid-80s.
But this is also when the islands earn their reputation for luxury with some hotel rooms going for more than $1,000 a night.
Not only that, but demand is high, so if you want to visit at this time, you will need to book several months in advance.